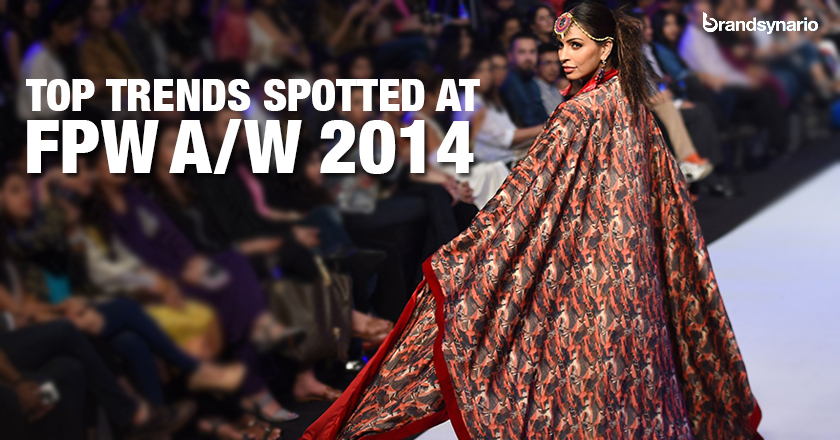 After three days of ceaseless glamour extravaganza, 23 designers successfully displayed their collections at the Fashion Pakistan Week which has finally come to an end.
Call us crazy, but Autumn/Winter 2014 fashion week saw lesser energy this season than ever before.
Let's have a look at our ultimate guide to this season's top Best trends at the Fashion Pakistan Week
1. Vibrant Shades & Multiple-Piece Attires by Athar Ali
All pieces in the Athar Ali Aziz for Sana Safinaz collection were in vibrant and lively shades of pink, neon, blue, white and orange. The focus was on mixing numerous cuts, textures and materials. Besides outfits, there were also multiple-piece attires entailing tops, skirts, pants and capes.
All of the looks were complimented with subtle makeup, retro-inspired sun glasses and wavy hair on the models, alluding to the funky but chic designs.
2. Capes & Jackets with Embroidered Patterns by Ayesha Hashwani
Ayesha & Hashwani's collection consisted of dresses, capes and jackets that were a combination of sheer and solid material embroidered with intricate patterns. The designs showed inspiration from steam punk fashion, but Hashwani well-adjusted the edginess with metallic work on silky and velvet fabric. The conventionally coveted designs were infused with typical concepts to craft a collection that tactically fused edgy and fierce with neat and polished. 
3. Plain Silk Tops Paired with Printed Pants by Amna Aqeel
Amna Aqeel's collection wasn't made to impress, but consider the job done anyway. All the clothes utilized clean-cut lines, with rather plain silk tops paired with printed pants. Her designs displayed jackets and capes too. The looks were trendy yet classy because it didn't have any designs or texture but it still demanded attention. The look can work for a night out, a dinner date or a fancy event.
4. Abstract Hues of Colors on Straight Folds by Gul Ahmed
Gul Ahmed's dresses highlighted a creative design with abstract colors that flowed over the straight folds of the outfits. The dresses, hues of purple and pink, did well to set up the overall trendy look that played off restraints well, yet keeping it simple, but adding a few details to keep it from becoming ordinary. What might appear to be a mere regular purple dress turned out to have a distinctive pattern that made it stand out.
There was nothing tedious about the clothing, which is tough to pull off when nothing in specific is gaudy or bizarre.
While there was a lot to love at the Fashion Pakistan Week, there were a number of things that were a big disappointment too. Have a look at some of the poorer trends in question this season.
Zaheer Abbass collection was more towards beige and nude tones in airy draperies, including silk and chiffon. One aspect that detracted from many of the looks was the hair and accessory selections. The pale-fringed hairpiece and the makeup did not sincerely do justice to the pieces, as the eye makeup only drove on a few looks. It didn't fairly suit the tanned-skinned models bearing in mind a lot of the designs were classy and sophisticated.
Ishtiaq Afzal Khan's collection radiated basic tones, such as nudes, oranges and hues of navy blue. Although the cuts were nice but the designs were a mix of eastern and western draperies that left the attires incomplete in betwwen.
Encompassing menswear and women's wear, the line presented narrowing cuts. The high necklines paired with puffy sleeves failed to move us this week. We're all for layers and warmth, but the designers' wrapping concept on neck and waistline is a style we doubt will catch on.
Emraan Rajput's military-inspired line seemed to have had lost touch with reality. What was the target demographic of the designs? Everything was notable by care of cut but—it must be mentioned—the military inspiration appeared as impractical and unworkable.