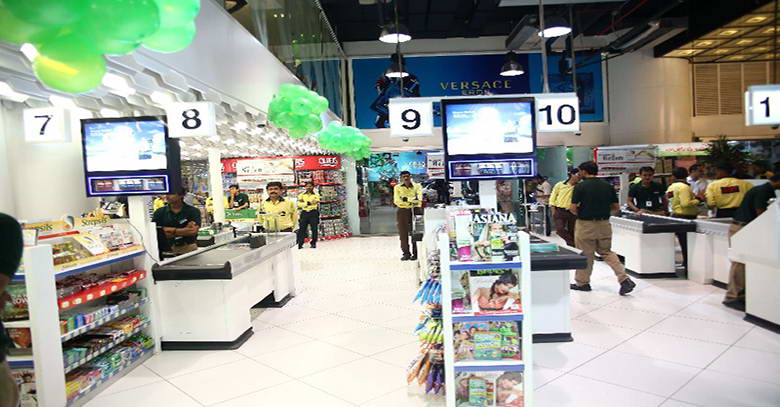 By Marium Ashfaq
Have you still not heard anything about the grandeur or utility of Farid's?
Every newspaper, magazine, website or blog has managed to post reviews about it. Those of us, who have visited, have been enthralled. Those who haven't, are yet to be wonderstruck by the 45000 sq feet colossal 'one-stop-shopping-solution', Farid's, at the Ocean Mall in Clifton, Karachi.
However, with Supermarkets such as Macro, Hyperstar and Imtiaz already present in the city, our ultimate shopping desires were already satisfied. Nonetheless, how is it then that Farid's still manages to grip us with its magnificence?
Undoubtedly, Farid's has the greatest number of brands as its major retailers. These include the popular JB Saeed, Scentsation, Liberty Books, Planet T Toys, Aylanto for the Deli, as well as Rahat Bakery.
Moreover, not only does it offer a bouquet of brands under one roof, the competitive prices are another factor to look out for. Be it grocery, sports goods, imported cheese assortment, premium quality cosmetics or any sort of electronics, Farid's has a shelf for everything.
According to Ammara Salahuddin, the marketing head of Farid's, the idea behind the supermarket is to provide quality with convenience to the consumers.
Due to the highly growing middle class population in Pakistan, 'retail is blooming', as living standards are getting better. Thereby, Farid's serves its purpose to the present and future economy of the country.
Furthermore, Farid's has attained its unique charm by a number of other facilities it provides to its customers. The Nabila's beauty salon, within the premises, is a major appeal, along with the presence of a mini spa.
In addition, its outstanding pharmacy offers the greatest variety of medicines, medical instruments and supplements, along with a hygienic vaccination spot.
All the sections have professionals who attend the clients, and this is everything buyers want. People trust people, more than the brand itself. Thus with educated and experienced sales people present, they are easily assured of quality.
Besides, the supermarket has a MARS money exchange within its premises, as well as an ATM facility.
One can say it is a mall within a mall with its in-house cafeteria, bakery, a meat shop, a huge bookstore, a separate toy store and a segregated lingerie area for women and a men's corner.
To sum it up, Farid's has made a statement due to its magnanimity in terms of physical size and variety.
In any case, it's all about spending money. What do you think? Is the hype really for the benefits that Farid's is providing, or is it merely a matter of inventive marketing strategy?