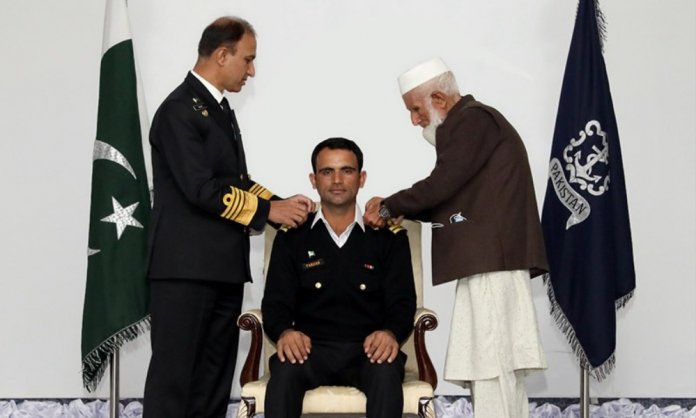 This article is submitted by Nabil Ismail
Pakistani cricketer Fakhar Zaman has been awarded the honorary rank of Lieutenant in Pakistan Navy (PN), informed PN spokesman.
Chief of the Naval Staff Admiral Muhammad Amjad Khan Niazi conferred the honorary rank of Lieutenant on Zaman at the Naval Headquarters. He was given this honorary rank for his outstanding performance in the field of cricket and his commitment to the Pakistan Navy.
Addressing at the ceremony, Naval Chief congratulated Zaman and his family. "Pakistan Navy is playing its role for the promotion of various sports in the country and will continue to support the players," said Naval Chief.
Officials from the military and PCB also attended the ceremony along with several former cricketers and Zaman's family. Apart from honorary rank, Zaman has also been awarded a certificate of appreciation by the Chairman Joint Chiefs of Staff Committee.
In 2007, Zaman joined the PN's Operations Branch as a sailor and during his career, Zaman won several awards for PN in the field of cricket. Before leaving he PN services in 2013, Zaman in 2012, represented PN in the International Defense Cricket Challenge Cup held in Australia and was named the best player of the tournament.
Zaman in 2013 joined the domestic cricket and his extraordinary performances caught the eye of the national selectors. Besides, Zaman made his debut at international cricket for the Pakistan National team with the 2017 ICC Champions Trophy group stage match against South Africa. He soon became a national hero when he scored a century against arch-rivals India in the final of the Champions Trophy, helping Pakistan to win the match by 158 runs to lift their first-ever ICC Champions Trophy.
Later in 2018, Zaman scored a double century against Zimbabwe in an ODI and became the first and only Pakistani to do so. Zaman completed his 1000 ODI runs in only 18 innings, becoming the fastest ever batsman to accomplish the feat.
Zaman in seven years of his career has played 40 T20Is and 47 ODIs for Pakistan and his record in both formats has been remarkable. He has 1,960 runs to his name at an average of 45.58 and a strike rate of 95.23 in ODIs, whereas in T20Is he has scored 838 runs with an average of 22.05 and a strike rate of 134.08.
Recently, he was named in the 35-man squad for the tour of New Zealand but wasn't able to fly with the team as he fell ill on the evening of the squad's departure.