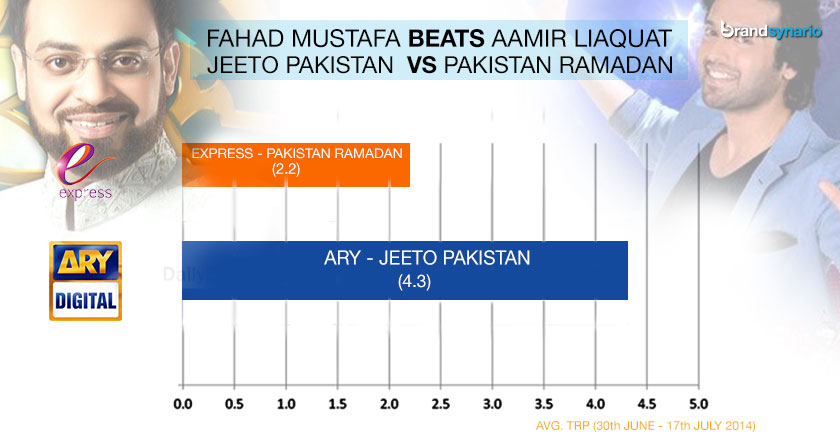 The long reign of Amir Liaquat's as being the "Ultimate Host" of all times has now reached its culmination, defeated by the revolutionary Fahad Mustafa of ARY's "Jeeto Pakistan".
TRP (Target Rating Points) reveal that Jeeto Pakistan is now the nation's most favorite game show, single-handedly winning the hearts of the viewers and taking over the lead in ratings from Aamir Liaquat's legendary Ramadan transmission. 
Every day, between 20:00 to 22:00 PST, the TRPs of ARY sky rocketed, while those of Liaquat's "Pakistan Ramadan" on Express Entertainment plummeted downward, with no sign of progress.
What was once thought impossible by many, took Fahad Mustafa just fifteen days. On average, Fahad's game show marks the average rating of 4.3, almost double to that of Amir Liaquat's 2.3.   
While Amir's Ramadan Transmission on Express brings a heady cocktail of religion and entertainment to our TV screens, some of his actions appear indecent given the spiritual sanctity of the month.
Meanwhile, ARY has maintained a clever balance in its Ramadan transmissions; the pre-Iftar transmissions are conducted by the famous duo of Junaid Jamshed and Waseem Badami, leaving Fahad Mustafa to host "Jeeto Pakistan", an exhilarating game show for the entire family to enjoy.
Seemingly, Pakistani audience has gotten enough of Amir Liaquat's chants of "Tukka Lagao Musalmano", and have simply switched sides to blissfully enjoy the "Thakki Thikki" groove every evening with Fahad Mustafa.
It is apparent that Express Entertainment did not turn out to be so lucky for Pakistan's leading televangelist. Not only has Amir's viewership at Express dropped to a 40% from that of Geo, he is also starting to lose his touch, with his hunger of ratings getting the better of him.
As a result, a wild rave on social media has started against him. He is being accused of descending to the lowest possible ebb of degradation and victimization due to his wicked sense of humor and shocking behavior in the name of entertainment.