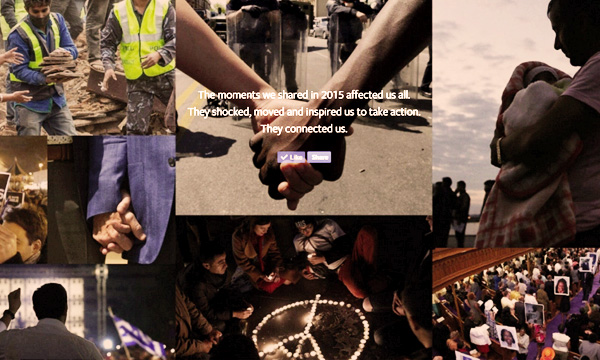 Facebook is not all about birthday greetings, hysterical memes and baby pictures. It has been a social medium for million to express opinions and views; people turn to social networks to vent and delve into serious topics.
Subjects like marriage equality, politics, terrorism and the likes have been some popular topics, according to Facebook's release Wednesday of the site's most popular subjects globally in 2015.
The US presidential elections were at the top spot; following this was the November terrorist attacks in Paris; the Syrian Civil War and refugee crisis along with the Nepal earthquakes and the debt crisis in Greece.
Read more: Mark Zuckerberg to Donate 99% of Facebook Shares to Charity
With over 1 billion users worldwide, Facebook is our window to the world, being the best platform for the audience's passion and interests. Facebook compiled its Year in Review list by assessing how often a particular topic was mentioned in posts between January and December.
Let's view the Facebook Year in Review Video below;
[vimeo id="148313339″]
"The moments we shared in 2015 affected us all," Facebook said on its Year in Review"They shocked, moved and inspired us to take action. They connected us."
Other subjects that moved Facebook users over the past year were Charlie Hebdo attacks in Paris, legalization of same-sex marriage in Ireland and US, the battle against ISIS and the protests over police in Baltimore along with the ensuing Confederate flag debate.
[fb_embed_post href="https://www.facebook.com/alex.byrne.560/videos/10204350147134471//" width="550″/]
[fb_embed_post href="https://www.facebook.com/photo.php?fbid=10153545938229418&set=a.471975064417.258964.657519417&type=3&theater/" width="550″/]
[fb_embed_post href="https://www.facebook.com/photo.php?fbid=10207234052748475&set=a.1616234324598.84959.1198536249&type=3&theater/" width="550″/]
Read more: Facebook is Now Helping Users to Avoid their Exes
Facebook users were also immensely enticed by the upcoming movie "Star Wars: The Force Awakens," "the Super Bowl" and the Planned Parenthood. Year in Review also pierced down to more particular items, such as TV shows, movies, and entertainers mostly discussed on Facebook.
Among the artists and entertainers, the ones at the top of the list were singers Kanye West, Ed Sheeran, Taylor Swift, Nicky Jam, Wiz Khalifa, while the movies that were among the most discussed are Fast & Furious 7, Jurassic World, Star Wars: The Force Awakens, American Sniper, and Avengers: Age of Ultron. The TV shows that were most discussed are Game of Thrones, The Walking Dead, Saturday Night Live, The Daily Show and WWE Raw.
Read more: 10 Facebook Tips & Tricks Every User Must Know
Stay tuned to Brandsynario for more updates!