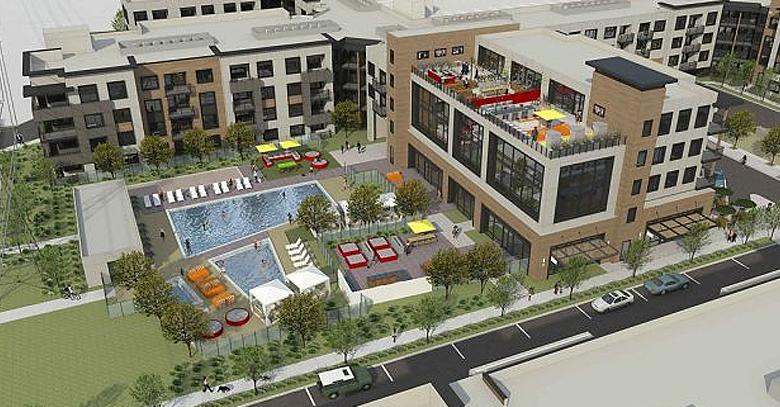 By Ufaq Ashfaque
Facebook, in collaboration with Northern California residential real estate developer St. Anton Partners, introduced 394-unit residential complex Anton Menlo, situated in the back yard of the Facebook headquarters and campus in California.
Since, Anton Menlo is a walking distance from Facebook headquarters and campus; many experts said that Facebook is breaching the line between work and personal space. A person living in this complex will not be able to ever let go of his work completely.
But Facebook maintains that the complex is open to public and anyone can live in it. The company further clarified that people work at Facebook because they 'want' to not because they are 'forced', Huffington Post quoted a spokesperson for Facebook, so coercing employees to live nearby is out of the question.
According to a Facebook spokeswoman, "This project advances both goals, by providing our employees an excellent new housing option within walking distance to campus while investing in new housing opportunities in our local community."
Designed by KTGY Group, The complex is a combination of one, two and three-bedroom apartments.  The complex is expected to be a combination of homes and studios spreading across the 10-acre project.  Also, to complement the stressful lifestyle, it would have the standard pool facility, along with a convenience store, sports pub, bike repair shop, a yoga room and a pet spa for doggy day care.
Keith Labus is positive about this project, narrating that this complex would have"everything the young professional could want to complement their busy lifestyle."
This complex will spread over 630,000 sq. ft and is worth an estimated $120,000m that is a collaboration of the partnership between Facebook and St. Anton Partners.  Planning Commission for the Menlo Park will be reviewing the entire project.  If all odds pan out, the project is set to begin as early as 2016.
In addition to this remarkable milestone, Facebook is also planning to offer free Wi-Fi to its users in response to their demographic information.  Launched in Collaboration with Cisco, the data would be collected anonymously, but would help Facebook to further target their audience.
As consumer expectation for free Wi-Fi is increasing, Cisco and Facebook are working hand-in-hand to deliver quality, free, convenient internet services.  A simple proposition for consumers to give in their demographic data, it would give consumers free Wi-Fi access on the go – a win-win situation indeed.
Chris Spain, VP at Cisco, stresses that the data will taken and circulated as anonymous, but regardless of the demographic data being taken, a major risk of profile breach and intervention has already began to brew.