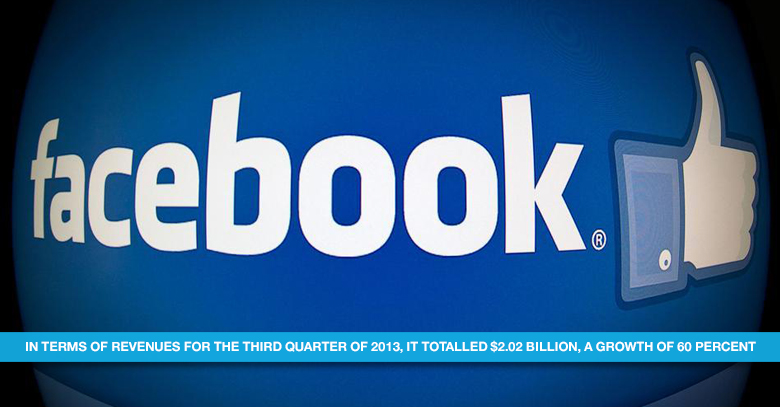 Facebook achieved yet another milestone when the world's most populated Social media network announced that it has 1.19 billion monthly users in totality with a year on year growth of 18 percent, in its 3rd quarterly financial report.
An average of 728 million Facebook fans were listed as daily active users, leveling up to a 25 percent year on year expansion.
As if this was not enough, the website exceeded everyone's expectations by achieving a record of 874 mobile users worldwide, boosting its year on year record to 45 percent
Daily active mobile users augmented from 469 million in the 2nd quarter to 507 million in the 3rd and revenue for the quarter amounted to a whopping $2.02 billion, with a boost of 60 % year on year.
But most of all, Facebook seems very proud of eventually conquering the void that existed between its regular and mobile users.
With more than half of the world having internet facility on the go via tablets and phones, Facebook is leaving no stones unturned to make the experience as mobile friendly as possible.
The most loved social media website has successfully made its fans quite addicted to news feed, updating statuses, posting check-ins and messaging through the innovative and constantly updated iOs and Android apps.
Even people in no possession of smartphones can enjoy the ultimate Facebook experience via the "Facebook for Every Phone" facility. Around 100 million active users alone log in to Facebook through their normal phones.
On the other hand, Facebook has also learned a great deal about mobile advertising and is now smartly ballooningits profits, with 49% of the revenue being generated from it single-handedly.
The booming growth of the social media giant is a result of nothing but Facebook's extensive efforts to make social networking more pleasant, speedy and feasible.
However, where the website recorded an incredible growth in the number of users, it saw a decline in the number of young members.
It seems that Facebook is now being openly rejected by its young users. Disliking the escalating availability of adult members on Facebook, teenagers are now migrating to new networks like Whatsaap, SnapChat and Instagram.
If this continues, Facebook will no longer be the behemoth of the social media world. Let's see what will be the next big thing Facebook will surprise us by; will it continue to soar or will it fall.