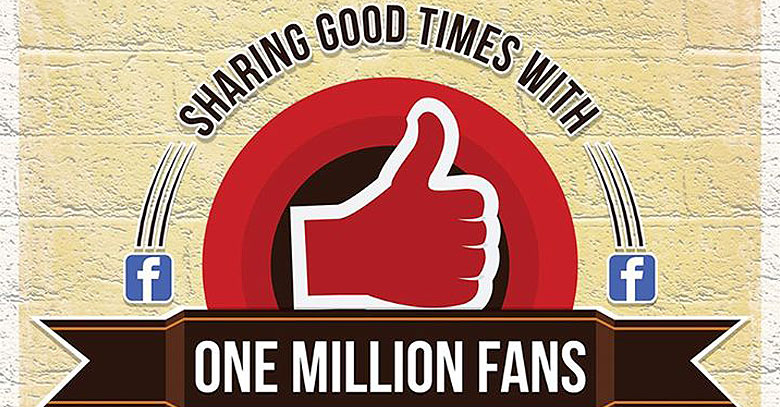 How many of you had your first get-together with friends at Pizza Hut or your first date or the last exam celebrations? Quite a few I presume. Pizza Hut was the first international fast food franchise in Pakistan and the only go-to place for the youth for many years.
Then the local competition came and introduced new rules of the game but Pizza Hut and its loyal fan base was not to be deterred, like (some of) our grandpa's, it accepted change in consumer behavior and evolved, reaching out to their target audience through social media.
Recently, Pizza Hut achieved a milestone on social media platform as they garnered one million fans on their Facebook page. The celebrations started in full swing as we saw the tagline 'One million under one hut' appear on social media, OOH and at their restaurants.
Resorting to sensory advertising, Pizza Hut created a mouth-watering TVC. The swelling of the crust, melting of cheese and infusion of flavors makes the viewer automatically grab their phones and dial 111-241-241.
But wait, Pizza Hut is offering exciting prizes if you visit their outlets in Karachi, Lahore and Islamabad and take a picture in front of their 'one million wall'. So, why not grab car keys instead of your phone?
Brandsynario had an exclusive interview with the Digital Media Manager, Pizza hut Pakistan, Murtaza Marvi to know how they achieved this milestone in such tough competition.
Q1: How long has it been for Pizza Hut Pakistan in the digital and social media world?
Murtaza Marvi: Pizza Hut initiated its social media marketing, almost two years from now, in October 2011. Back then, it was just the Facebook page plus display advertisements on local publishers. We are now active on both Twitter and Pinterest , initiated in June 2013.
Q2:  Tell us about your reasons to focus on digital media? Considering the exponential growth in internet usage, do you think digital media for Pizza Hut Pakistan will soon overtake other traditional mediums?
Murtaza Marvi: During my academia, I was more focused towards traditional/conventional marketing medium. However, since I've entered the practical arena, I've seen how the digital medium has begun to have an immense impact.
Digital Media allows brands to connect more personally with their customers, and in fact, it allows them to call their friends/followers/fans/pinners and so on. In an increasingly connected world, the digital media can connect a customer's story with that of a brand and vice versa.
Although, Pizza Hut Pakistan has gone up a notch or two in their digital media presence, but there's still a huge room to grow further.
To be honest, the debate between digital vs traditional does not make sense. The real test for a brand is to integrate all the mediums and deliver a consistent message across the board.
Q3: Being the largest global Pizza chain do you consider 14th street and other growing local Pizza chains as your tough competitors? 
Murtaza Marvi: Over the years, Pizza Hut has seen many new entrants and then for one reason or the other fizzle out. Some have stood their ground but not seen much growth over the years.
We, being the first fast casual restaurant chain to enter the market and to consistently grow to our current size of52 units (and growing), across 12 cities, feel that any new entrant expands the market which benefits all the players. 
We have the first-mover advantage and hence it is difficult for new brands cropping up to meet these consistently.
Q4: Tell us about your initiatives and campaigns that helped Pizza Hut Pakistan set strong foothold on social media?
Murtaza Marvi: Ever since our launch on the social media platform, Pizza Hut has maintained a high level of user engagement with its fans and continues to do so. The brand is huge with the Pakistani Facebook audience and the organic growth and following of the brand activities reflects it.
Thanks to the very nature of social media, it has been increasingly fun and exciting for the brand team and the agency to try different things. The activities have ranged from social gaming to mascots to storytelling to user-generated content.
Many of the initiatives also focused on churning out business results and we have seen increasingly good response in that aspect as well, which a lot of brands in Pakistan cannot boast about.
Q5: Do you follow global Pizza Hut guidelines for your promotional campaigns or do you formulate them locally? 
Murtaza Marvi: Some promotional campaigns are formulated locally while others are borrowed from the region. However, an advisory committee from the Regional Headquarters (HQ) is notified about the marketing calendar for each year.
Pizza Hut Pakistan needs to ensure that our marketing strategy is in line with the region's overall strategy. While formulating local strategies, Pizza Hut does follow global guidelines strictly and works hard to maintain the desired brand positioning in the minds of the consumer.
Each promo is then marketed according to the target audience and the sales channel it is meant to benefit.
Murtaza Marvi graduated from IBA in year 2011 and is now working as Assistant Brand manager for Pizza Hut.