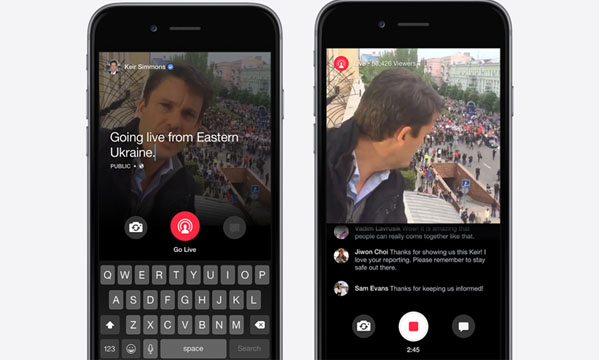 Once only thought of as only a social networking website, Facebook is now offering all the reporters a tool which would enable them to stream live on Facebook!
All the journalist and media experts will be able to access its Mentions App- an app that was previously only accessible to celebrities. Through this app, all the reporters and journalists will be able to post breaking news, BTS, talk shows etc live on Facebook.
Related: Facebook Launches New Logo for Letter A Fans
The product manager for Mentions, Vadim Lavrusik explained the rationale behind this launch.
"We want to make Facebook a better experience for journalists whether it's used for news-gathering or better connecting with their readers or to drive distribution to their content," he said
Also See : Telenor & Facebook to Launch Internet.org.com in Pakistan
This app helps the users to monitor the traffic related to them and also follow their interested topics by seeing what's trending on Facebook. Unlike before, any registered Journalist and Reporter can now make their verified profile on Facebook and start live streaming.
This was a much needed step for Facebook as its competitor Twitter acquired live streaming app Periscope earlier this year following the fanfare of competing live stream startup Meerkat.
In addition to that, YouTube is also seriously considering to launch live streaming on its website. Hence, this step was indeed more of a decision to get in line with the competitors.
Read more : Facebook Lite to Launch in Pakistan Soon 
Currently, Serena Williams, Ricky Gervais, and journalists such as Lester Holt and Al Roker have tried Facebook for live streaming.
Having more than 1.5 billion average per month, Facebook verily has the tendency to turn live streaming into mainstreaming.