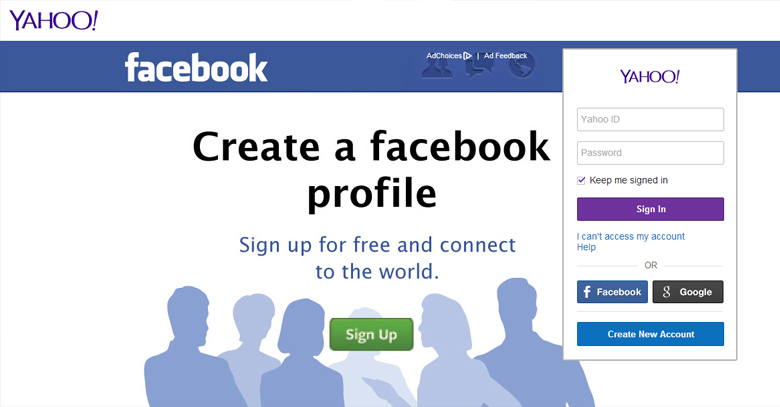 By Ufaq Ashfaque
How would it look to see a Pepsi logo on a Coke's can? Confused?
Here is an example where we caught Facebook taking over Yahoo's login page through Yahoo ad choices.  Users can now login or register on Yahoo using their Facebook profiles and users ID's.
Yahoo AdChoices is a mechanism designed by the self-regulatory program for online behavioral advertising of the advertising industry.  This would allow users and visitors of a particular website to control the kind of ads they wish to see.
Through this technology, it would allow ads to be targeted to the designated audience and also focusing on pitching ideas where audiences would be most responsive.
After completing their successful thirty days of change and revealing their new identity, Yahoo is taking another step to show partnership with Facebook.
There are different examples that can be seen with regards to such collaborations.  Google was previously associated with the launch of Android Kitkat 4.4.  As Yahoo collaborates with Facebook, it appears that direct competition is brewing between Yahoo and Google.
Also, apart from the cold war brewing between Google and Yahoo, Facebook is also aggressively looking to advertise in terms of online banners and search ads.  This year, Facebook is said to gain three times the global mobile advertising share as compared to 2012.
Hence, time, tact and strategy are vital elements for Yahoo, Facebook and Google to continue targeting the audience and delivering performance above par.