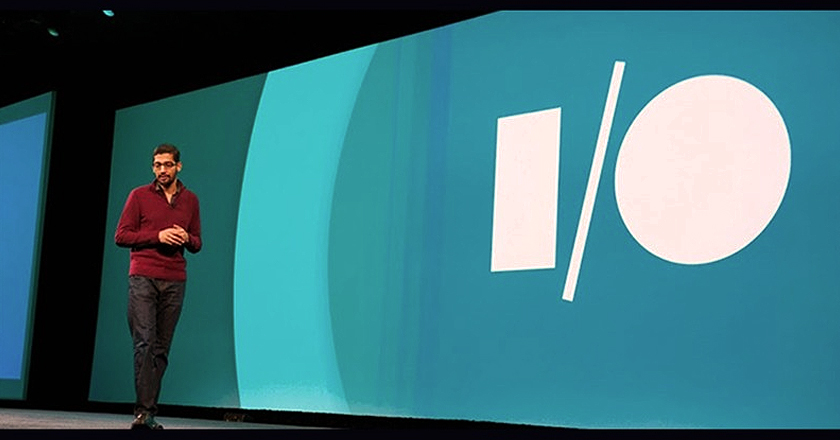 In case you didn't fancy sitting through two days of tech talk at Google's mega- developer conference, Google IO 2015, here is a snapshot of all things important coming your way from Google.
Streamed in 90 countries across six continents, Google I/O 2015 announced some major tech developments Google has made recently and what it plans to send out for its users.
With an aim to further simplify computing, Google has revamped its current softwares and created new ones that promise to change the world of automation forever.
With the new developments, Google is aiming to stitch together all of its softwares to give users a more streamlined experience when using the family of Google products.
According to Engadget, Google Senior Vice President Sundar Pichai claims that eight out of ten phones are powered by Android.
With such a high figure and Google's varied line of products, it's no wonder the search engine giant is trying to connect everything together and create its own bubble of technology for its users.
Here are all the things Google announced at Google IO 2015:
Android M
Google's latest operating system, Android M, to be launched later during the year, is very similar to its predecessor Lollipop, with changes to power optimization, apps connectivity and more.
Updated Apps Permission Feature
With the new Android M, the Apps Permission block that intimidates us every time we install an app will get a tad less complicated.
The Apps Permission feature will no longer ask for approval of a lengthy list of permissions at the time of installation but instead prompt you to permit the app to access features as and when needed while using the app.
Chrome Custom Tabs – The In-App Browsing Experience
Google plans to change the frustrating process of leaving the app and waiting for the browser to load and open a website whenever we click on an internet link within an app by introducing Chrome Custom Tabs.
The new Chrome Custom Tabs will work like an in-app browser that will not only you let you view the web links within the app but will also cut download time and make the user experience smoother.
Doze To Save Battery Life
Google has heard all our battery woes and introduced Doze in its new OS.
The Dozing feature will allow our smartphones to go in a deep sleep mode thereby saving battery life, when dormant for long periods of time, by sensing inactivity through motion detectors.
Now On Tap
Google upgraded its Google Now feature to Now On Tap to make your smartphone more intelligent to help you assist with simple tasks.
For example, if a friend texts you about movie plans, Now On Tap will give you a list of features including YouTube links to view trailers, cinema schedules to book tickets, to-do list reminder to mark the date and Maps route to mark the way.
Google Photos Unlimited Storage
With the selfies craze continuing to go strong, Google has updated its Google Photos app to allow users to store unlimited number of photos and videos online for free. The update comes with some advanced auto-tagging features, ability to group them by subject and create a timeline.
Offline Connectivity
For those of us in the developing countries, where a good internet connection is still a luxury, Google has allowed offline connectivity options.
This includes Offline Google Maps, offline Chrome support, autocomplete searches and optimized web pages to view using spotty internet connections.
Upgraded Android Wear
Along with making smartphones smarter, Google is also working on other Android wear to make each product more user-friendly for its users.
Some important updates include a more facilitated option to order Uber cars using your Android smart watch, an always-on screen for viewing features on the go and faster loading of apps.
Android Pay Coming Soon
With Google Wallet failing badly in the technosphere, Google is working on Android Pay to launch it as soon as possible. With a promise to work with 700,000 stores, Android Pay will also allow you to use your fingerprint scans to authenticate payments.
HBO Now At Play Store
Wanted to watch Game of Thrones live at your Android smartphones? HBO Now, the streaming only HBO service, is on its way to Play Store and you can view the shows of your choice live at your smartphones.
Till now, HBO Now was exclusively available for iOS devices.
Project Brillo
Google wants to automate your home too. With Project Brillo, Google allows you to automate your door locks, light switches and security cameras.
What's even better that these devices can communicate with each other using their own language Weave.
Previously, such internet of things have been created and failed, including one by Google itself, but the new project seems to be promising.
Virtual Reality
Google is fast planning to make virtual reality more accessible and it has announced three new developments in the arena including a bigger and improved Google Cardboard SDK for newer, bigger smartphones; Expeditions VR software to allow teachers to take students to virtual field trips; and, Jump, a camera rig system to allow users to create virtual reality videos in 360 degrees.
Google I/O 2015 ended with a note from VP Pichai stating how Google aims to solve daily problems by putting technology to use and shedding light over Google's upcoming projects including Google Self-Driving Cars and Project Loon.