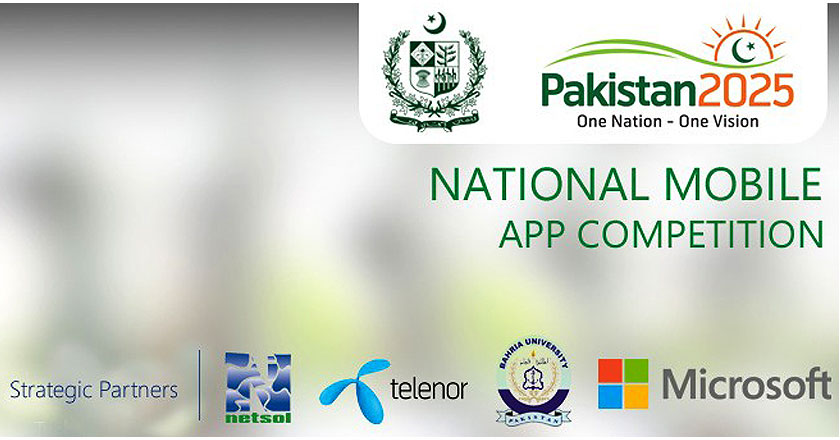 Planning commission of Pakistan has announced its very first National Mobile Competition. 
The aim of the competition is to harness the creativity of IT professionals and young minds to create apps that can bring transparency and improve the quality of work for Government services.
Entries for the competition will be taken from startups, professionals and students, the best 10 of which will be rewarded fairly for their ideas; the details of the rewards can be found below.
In order to enter the competition, one simply has to register their idea on Planning Commission of Pakistan'swebsite.
The entry should include the basic concept (idea), its impact (how it will be beneficial) and the cost involved (overall cost estimation).
Bahria University will be organizing various awareness sessions for the competition within Islamabad, Lahore and Karachi) which will provide insights about the competition and will help them visualize ideas.
In addition Microsoft will be providing support to the participants through its innovation centers and student partners.
Last date to submit entries is February 1st, 2015 i.e. in the following categories,
Planning Commission
Energy
Health
Agriculture
Education
Good Governance
Media and News
E-Commerce
Judiciary
Policing / Security
Traffic Management
Any Other (High Impact)
Following rewards will be given to the participants for these positions:
1st Position
Rs. 300,000
Mobile Phone
Give aways
Certificates
2nd Position
Rs. 200,000
Mobile Phone
Give aways
Certificates
3rd Position
Rs. 100,000
Mobile Phone
Give aways
Certificates
4th to 10th Positions
Rs. 50,000 each
Mobile Phone
Give aways
Certificates
Terms & Conditions
An entry should adhere to the following terms & conditions:
The Working Prototype will remain the property of the participant(s) until the participant(s) voluntarily shares the Intellectual Property with Ministry of Planning, Development & Reform.
Participant(s) can submit multiple ideas.
There is no limit on number of team member(s) working on an idea; however there will only be one person representing the idea on the registration page, who will be called as Participant.
Only registered ideas will be evaluated.
Participant(s) of shortlisted Working Prototype will have an opportunity to get incubation support through Industry Liaison.
Participant(s) of winning Working Prototype will get an opportunity to get contract for implementing their solution through our partners. The winners of the competition having high impact apps may be recommended for funding from organizations such as National ICT R & D.
Government will ensure that Working Prototype will not be made public until the closing ceremony.
Ministry of Planning, Development & Reform will give preference to high impact and potentially low cost solutions.