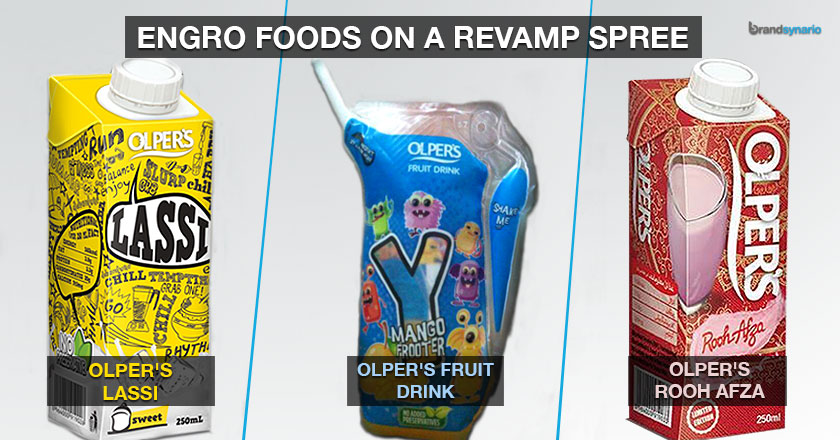 Since its Ramadan, it's customary for each brand to surprise customers one way or the other.
One of Pakistan's largest Corporates i.e. Engro Foods has decided to surprise its customers with something more than just a good campaign
This time Engro is going on a revamp spree, bringing its previously fallen products like Omung Lassi and Olfruite back to life.
Olper's Lassi
When Omung Lassi's not-so-stable future in sight, Engro has introdcued Lassi once again under its umbrella by the name of Olper's Lassi.
A desi product in videshi packaging, Olper's Lassi packs quite a product for the youth and elders alike.
With a completely new and eye-catching look, Olper's Lassi has now transformed its taste and quality according to metropolitan market requirements.
Initially introduced in Karachi as a test market, Olpers lassi has received a staggering response as well as a huge demand from different cities as well; the plan of expansion to which is now under implementation.
Olper's Juice
A product not known to many, Engro has secretly launched Olper's Juice to surprise its customers. Again, the product is not the same as its earlier prequel Olfruite but is a completely different and new one.
The change that starts with innovative packaging goes all the way to the taste and the addressed target market.
A look at the Olper's Juice and it's pretty clear to any person with a common sense that it's for children and with this scorching sunlight falling down upon us, the launch couldn't have been better timed than this.
With no advertising about the product currently in place, it looks like Engro is still testing the waters before publicly announcing it's aunch.
Engro seems to be going for a major revamp this summer and in this Holy month of Ramadan, so do try these newly revamped products and let us know your feedback.