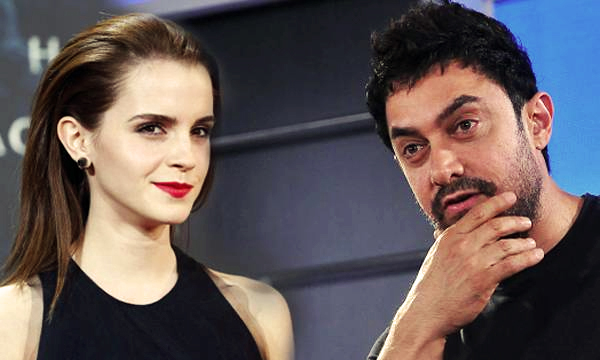 Rumor has it that the beauty with brains Emma Watson will star alongside B-Town's very own phenomenal Aamir Khan for 'Mid Dey' an upcoming Bollywood movie based on J Dey, the journalist.
Popular for her marvelous acting in the Harry Potter series as Hermione Granger, a Muggle-born Gryffindor Hogwarts student, Emma Watson is currently the UN Women Goodwill Ambassador.
Reportedly, the film will be based on Journalist J Dey's life, career, achievement and his murder.
Also see:  Aamir Khan vs. Salman Khan- Who Will Make a Better Wrestler
A close source to Aamir Khan reveals that "Aamir is thinking to postpone his shoot for Dangal since he wants to accommodate dates for Mid Dey after seeing the energy, clarity, and international cinema vision of Nandit Singha. "Mid Dey is messy and connects mainly with every segment of an Indian and international audience. By doing Mid Dey, Aamir will become the voice of Indian journalists in international cinema."
Read More:  Emma Watson as Belle for Disney's Beauty and the Beast
Currently Aamir Khan is loaded with his project, called Dangal in which he is performing the role of a retired wrestler who trains his daughters. Well known for his remarkable acting skills, Aamir has put on quite a lot of weight for the film- putting his health in danger.
Although the source didn't provide much information and instead stated, "Once everything is finalized, we will hold a couple of press conferences in India and the UK to announce the film. Till then let's keep our fingers crossed."
If rumors are true then soon we will see the two talented stars sharing the same screen; seems like something bigger is on its way. If Mid Dey features both these stars, this bilingual, Hind-English movie will be Khan's first entry into Hollywood and Emma's entry into the B-town respectively.
Read More: Aamir Khan's PK Movie Celebrities Twitter Review
If it's true that Emma Watson will be a part of this project, all we wish is that both these stars make this film a super hit.