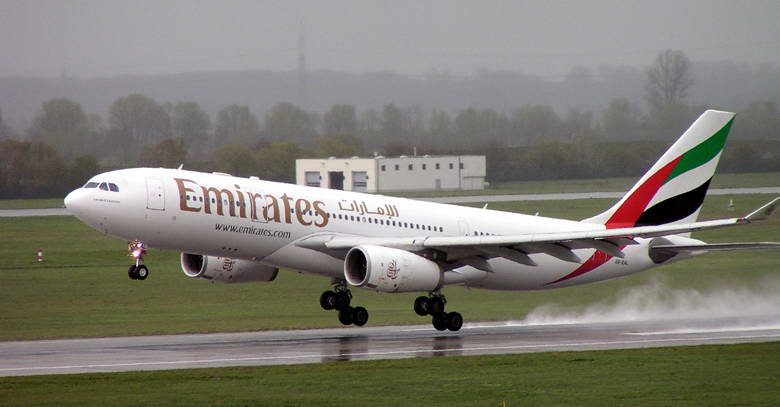 Emirates, the leading and fastest growing airline, announced that it will start weekly four flights to Sialkot, Pakistan. The services will start from November 5th, 2013, according to the official website of Emirates.
Sialkot will be the fifth route to Pakistan. Emirates launched its first route to Pakistan back in 1985 in Karachi.
"With the addition of this fifth destination, the airline will operate 63 flights a week between Dubai and Pakistan, Barry Brown, Emirates' Divisional Senior Vice President Commercial Operations East said.
"Twenty eight years since our first flight, this new service to Sialkot continues to demonstrate the strong ties between the two countries and reinforces Dubai as a conveniently located hub for onward travel on Emirates' network of 134 destinations."
Emirates airline has announced that the flights to Sialkot will be operated by an Airbus A330-200 aircraft having a two class configuration. The Business class will have 54 seats and the economy will have 183 seats. The aircraft can carry up to 17 tons of cargo which is a boost for trading opportunities.
"Besides boosting global trade and economic opportunities, this new route will provide additional travel options to Pakistanis wanting to connect with friends, families and colleagues worldwide," Brown further added.
Sialkot, the capital of Sialkot District located in the north-east of the Punjab province in Pakistan is famous for being the hub for producing and exporting sports goods and clothing, gloves, surgical instruments, cutlery, ceramics and leather garments.
"Flight EK620 will depart Dubai at 04:15 and arrive in Sialkot at 08:20 on Tuesdays, Thursdays, Saturdays and Sundays.  The return flight EK621 will leave Sialkot at 09:45, arriving in Dubai at 12:35," according to theEmirates site.