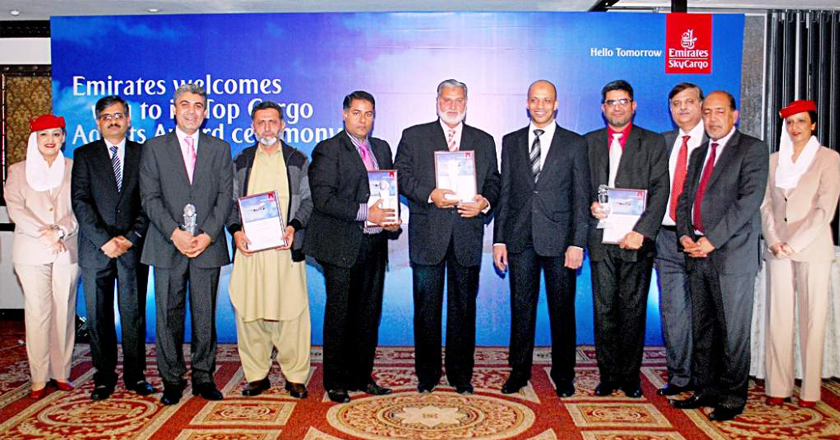 Emirates SkyCargo, the freight division of Emirates, presented its top cargo agents with special achievement awards at dedicated events held recently in Lahore and Karachi. These awards recognized the important role of cargo agents and forwarders in contributing to the Emirates SkyCargo's success during 2013.
The Honourable Mr Obaid Al Kaabi, Second Secretary of the UAE Consulate, attended the Karachi ceremony and distributed awards with Mr Khalid Bardan, Emirates Vice President for Pakistan and Mr Faisal Yaqoob,Emirates Cargo Managerfor Pakistan.
"It has been a challenging yet rewarding year for Emirates SkyCargo. I am grateful for the continued support of all our cargo agents and would like to thank them for their contribution and for delivering such a consistently high-quality performance," said Mr Bardan.
"Emirates SkyCargo operations in Pakistan continue to register a strong performance with load factors increasing over time, indicating Pakistan's strong potential for continued growth in cargo and we look forward to an even better performance in 2014. I would like to thank all my colleagues for their fantastic efforts and congratulate all our winners," he added.
The Karachi event, which was attended by 120 people from the cargo industry, was held at the Movenpick Hotel while the Lahore event, which was held at the Pearl Continental Hotel, was attended by 110 guests.
The criteria of the awards, which are held annually, were based on the revenue generated by the agents and their overall performance in the market.
"Emirates Sky Cargo's success can be attributed to the consistent quality of our products, services and our ability to deliver to our customers over the years and we hope to keep achieving record-breaking heights in the future as well," said Mr Yaqoob, Emirates Cargo Manager for Pakistan. "We have always valued our relationships with our cargo partners, and these awards are to recognise their commitment and contribution to Emirates SkyCargo".
In November last year, Emirates SkyCargo added Sialkot to its route network in Pakistan, with four flights weekly from the city known as the industrial hub of Pakistan.
Since services commenced in 1985, Emirates SkyCargo has built a reputation for leading the industry in innovation, flexibility and service. It has received numerous international awards, including 'Cargo Airline of the Year 2013' (Air Cargo Week), 'Cargo Airline of the Year 2013', 'Best Middle East Cargo Airline' (both Air Cargo News), 'Best Air Cargo Carrier Middle East' (AFSCA), 'Cargo Operator of the Year' (SCATA) and 'Air Cargo Excellence Award' (Air Cargo World).