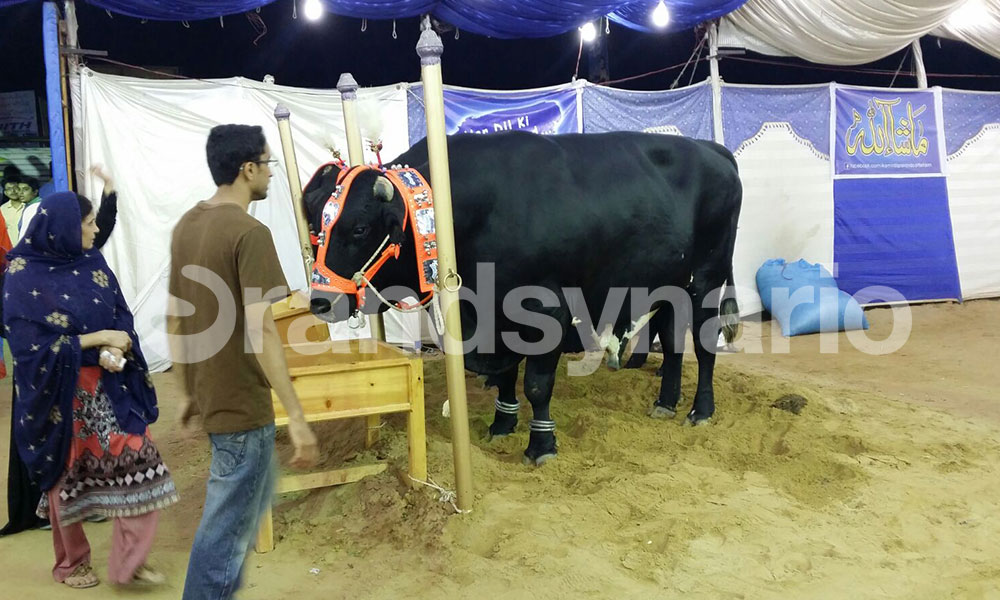 With only 3 days to go (yes, we are counting) to the fun-filled Eid-ul-Azha 2015, thousands of sacrificial animals are being brought in to Karachi Super Highway market to set up Asia's largest cattle market.
While it has become much easier for the traders to bring in their animal stocks, due to reduced extortion cases and decreased petroleum prices, into the provincial capital, they still predict the lack of sales and reduced profit margins this season.
The thriving online marketers are more hopeful for a better sales figure this year with the premier online Qurbani service, QurbaniOnline.com expecting to sell 100,000 animals this Eid.
The prices at the QurbaniOnline.com range from USD 235 for a 25 kg goat to USD 415 for a 45 kg goat and USD 850 for a USD 120/share bull to USD 885 for a USD 125/share cow.
On the other hand, the welfare alms have set rates at PKR 15,000 to PKR 20,000 for goats and PKR 49,000 to PKR 72,000 for calves and cows, depending on where the sacrifice would take place and the weight and size of the animal.
While these quoted prices are expected to remain fixed, the prices in the animal markets will continue to rise as the days go by.
The main animals market at the superhighway, Karachi for now features mostly the high-end "showstopper" cows and bulls, purely for the elite class to buy and others to enjoy their "ramp walk" for entertainment. These animals are priced from PKR 250,000 to a whopping PKR 1,000,000. 
See some of the images from Superhighway market:
Photo Credits: Osama Athar
Amongst these big shot tents, are smaller groups of affordable goats and cows, ranging from PKR 25,000 to PKR 35,000 and PKR 70,000 to PKR 100,000 respectively. While these are the prices quoted by the animal traders, customers have reported that sellers are willing to bargain and bring prices down for serious buyers.
The ban on setting up temporary animal markets anywhere the traders wish to and the general rise in inflation has kept the sales to a bare minimum so far.
Customers, visiting the few main markets set up, are window shoppers only, with most complaining that the costs of taking care of the animals for another 2 weeks is not affordable for them and hence, are pushing purchases till the coming weeks.