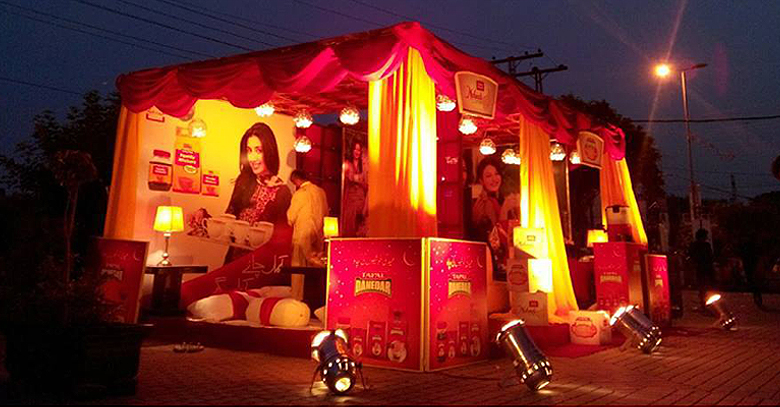 A popular sub brand of Tapal, Tapal Family Mixture recently held a brand activation to celebrate the spirit of Eid creating an atmosphere of a 'family lounge', outside and inside various malls across Pakistan, where families can enjoy a cup of tea avail henna services and win prizes via competitions.
The brand set up gazebos adorned in Tapal's brand colors, yellow and red, and a sitting area inspired by Arabian nights where families can celebrate Eid with Tapal.
Since Tapal Family Mixture has always focused on family bonding, this 'family lounge' will help consumers understand the true essence of the brand. This in turn will strengthen the 'Tapal-consumer' relationship.
Tapal is successfully carrying out cross media integration as they use billboards and social media to spread awareness regarding their brand activation and invite people to attend them.
One can see various billboards across Karachi which direct you to their activation being held in Atrium Mall and various other malls.
Last year Tapal carried out this activation in Mall of Lahore on a larger scale inviting guests and creating a festive atmosphere. This year round the lounge maybe smaller but the spirit remains the same.
Tapal reiterates that it is all about family and making their moments special.
Known for its rich, youthful taste, Tapal has managed to integrate all elements of our culture to become popular label in the industry and a leading brand in the country.
Previously, Tapal launched their Ramadan TVC, which narrates the significance of Ramadan and also delivers the message of charity.