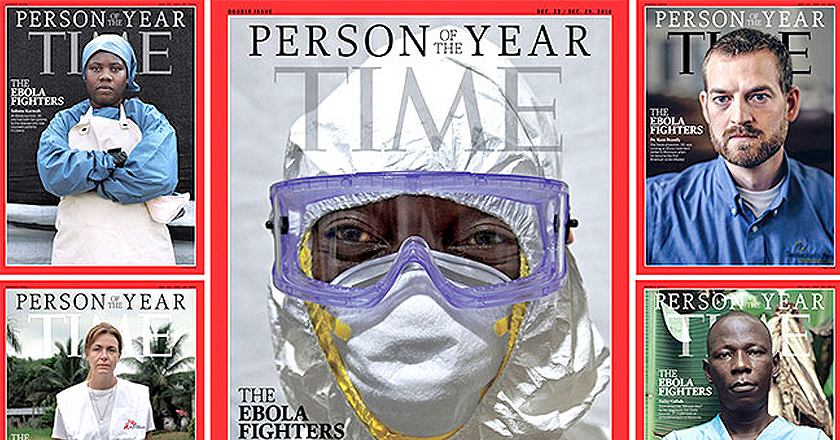 "Not the glittering weapon fights the fight, but rather the hero's heart."
The proverb was quoted in the Times article by editor Nancy Gibbs, as she honored the Ebola fighters as Times Person of the Year.
The year 2014 was marked with the tragedy of over 6,300 people succumbing to death due to the Ebola epidemic and medics fighting the disease heroically. 
The deadly virus causing hemorrhagic fever affected the doctors and nurses fighting for the cause too and as the infectious disease spread far and wide killing many in its wake, foreign help was needed.
According to the Times magazine, with the World Health Organization in denial and governments across countries failing to fight the Ebola war, the doctors, nurses, burial teams, ambulance drivers and health specialists who stepped up to fight for the good cause were the real heroes.
Nancy Gibbs, said in her article, "For tireless acts of courage and mercy, for buying the world time to boost its defenses, for risking, for persisting, for sacrificing and saving, the Ebola fighters are TIME's 2014 Person of the Year." 
The article further discussed how while governments failed to come up with helpful policies and ideas and competing bureaucrats fought amongst themselves, it was these fighters who made a difference. While talking to Times, a couple of fighters talked about what they went through while working for the cause and what drove them to step up:
"If someone from America comes to help my people, and someone from Uganda," says Iris Martor, a Liberian nurse, "then why can't I?" Foday Gallah, an ambulance driver who survived infection, calls his immunity a holy gift. "I want to give my blood so a lot of people can be saved," he says. "I am going to fight Ebola with all of my might."
The others shortlisted icons for the Time's Person of the Year were China's richest man, Jack Ma, Russian President Vladimir Putin, Iraq's Kurdistan region's president, Massoud Barzani with protestors fighting for the justice of Michael Brown as runners up.