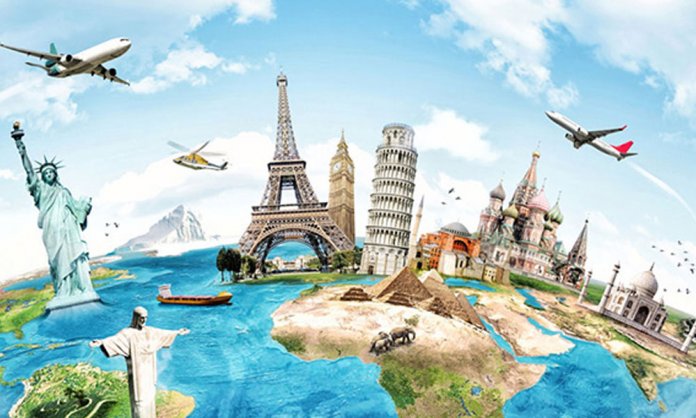 The joy of travel can present a paradox for earth lovers. Though flying to different corners of the earth and beholding the world's beauty can raise awareness and inspire, it's also a contributor to global warming.
To mark Earth Day April 22, some members of the travel industry are responding to this conflict of interest with the launch of carbon offset programs and new policies that allow consumers to erase part of their carbon footprint.
Take a look at how your purchasing power can green your travel this year:
Delta Air Lines
Throughout the month of April, Delta has pledged to invest in carbon offsets for customers traveling on domestic flights in high-traffic airports across the country. On April 19, the carrier estimated it will have offset the flights of more than 170,000 corporate and leisure customers, amounting to the purchase of 30,000 carbon offsets.
The offsets will go towards one of three projects that include tree planting projects in countries like Kenya and Uganda, to help reverse the effects of deforestation, drought and famine; forest conservation in Zimbabwe; and a project to green the construction industry in Brazil.
Another 15,000 carbon offsets will be purchased to help cancel out the travel of Delta employees throughout the month.
Delta also has an ongoing carbon offset program for flyers, who can calculate the impact of their travel and purchase offsets that go towards partner group The Nature Conservancy.
Air Canada
Canada's flagship carrier claims it will save 160 tons of carbon on 22 domestic flights on Earth Day by introducing biojet fuel into the airport's shared fuel system. While biojet fuel has been used in Canada before, those efforts required the use of tanker trucks which fueled aircrafts directly.
The Air Canada project, which will be demonstrated at Toronto Pearson International Airport, is billed as the first to blend biofuel into the existing, co-mingled airport fuel supply system. Carbon savings from the biofuel will be accredited to Air Canada domestic flights out of Toronto on Earth Day, to render them less carbon intensive.
Lyft
Ahead of Earth Day, rideshare service Lyft has announced plans to become carbon neutral. That is, to offset carbon emissions from all Lyft rides globally.
By their calculations, in one year, Lyft estimates that they will offset more than a million metric tons of carbon, equal to planting tens of millions of trees, or taking hundreds of thousands of cars off the road.
Airbnb
Ahead of Earth Day, short-term vacation rental giant Airbnb announced the launch of an Office of Healthy Tourism, created to drive "local, authentic and sustainable tourism" across its networks around the world.
According to a study commissioned by Airbnb, the environmental impact of Airbnb stays is significantly lower than stays in traditional hotels.
By their calculations, carried out by the Cleantech Group, Airbnb guests in Europe achieved energy savings equal to that of 826,000 homes, and reduced water usage equal to 13,000 Olympic-sized swimming pools.
In North America, guest stays at Airbnb properties resulted in sparing the planet of greenhouse gas emissions equal to that of 354,000 cars, and the waste reduction of 64,000 tons.
Meanwhile, the most eco-friendly destinations on Airbnb, defined as places that offer the most eco-friendly listings (yurts, treehouses, tents, nature lodges and cabins) include Northland, New Zealand; Nordsjaelland, Denmark; and the Smoky Mountains and Bear Lake in the US.