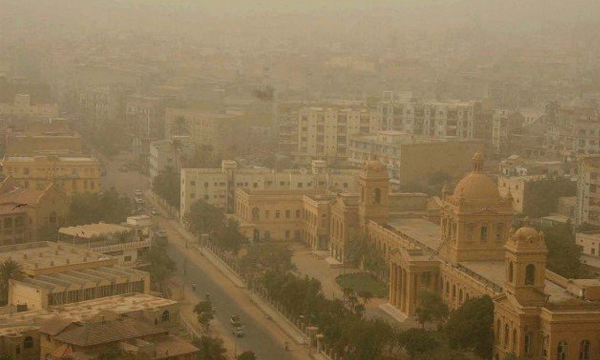 While a heatwave warning had been issued earlier by Pakistan's Metrological Department, dusty-laden winds have taken over Karachi. Citizens of the city of lights can breathe a sigh of relief as there seems to be no heatwave in sight as per the MET department.
Due to the northeastern winds blowing over the city the mercury rose to 37 degrees centigrade and humidity dropped to 30%.
Karachi's Weather Update For The Weekend!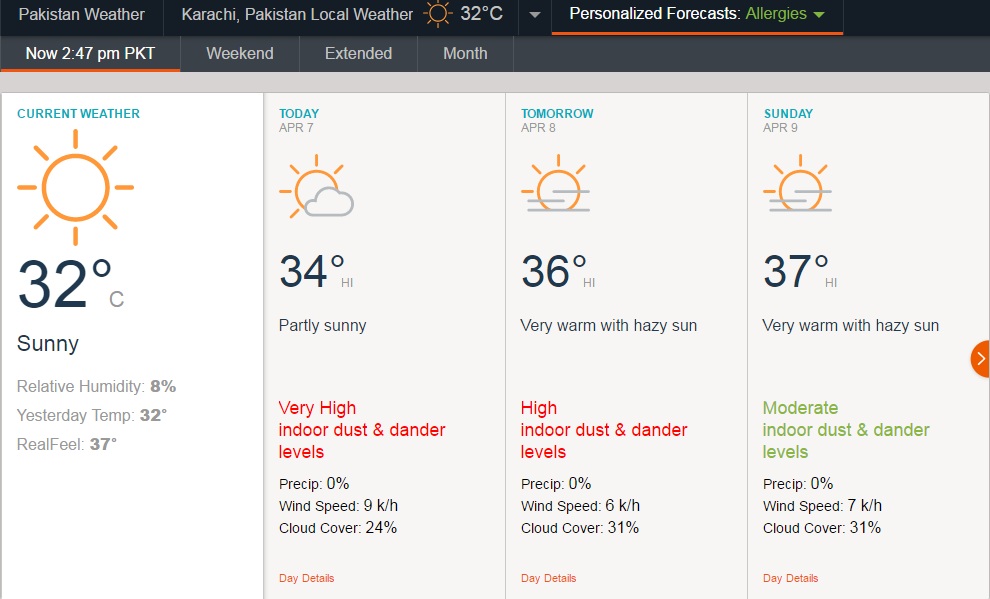 The country is experiencing reduced temperatures in upper areas due to the westerly wave. Heavy rainfall, gusty winds, and hailstorm occurred in the northern parts of the country. However, Karachites will only experience dry and dusty weather but with lower temperatures.
Here's how Karachites are reacting to the dust storms and no rain!
Karachi's weather is as crisp as Master Rusk.

— Master Rusk (@MasterRuskInfo) April 7, 2017
Please God take back this dusty bipolar weather 😒 #Karachi

— BookWoman (@Booknerd1011) April 7, 2017
Did someone offended karachi's weather?

— Omar (@GaaaarlicBread) April 7, 2017
WHAT has happened to Karachi's weather? Sarau books k pages curvy wurvy hogai hain. Humph.

— M. Nabeel P. (@ATattereDickens) April 7, 2017
This dusty weather in Karachi is making me sick 😫😫

— Aamir (@iMalaiBoti) April 7, 2017
Woke up to 22 degrees! What's this sudden change in weather??? #Karachi

— خان (@KaliDaal) April 7, 2017
Karachi's weather is more unpredictable than Shahid Afridi .

— Syed Talha Ahmed (@Letalhaaa) April 6, 2017
Karachi's weather is zeher for everyone who has sinus, and asthma.

— Rooj (@khanRooj) April 6, 2017
karachi weather trolling us big time…..

— SYED ALI (@syed_zaidi35) April 6, 2017
I think I'm about to caught a severe flu. Thanks to the dusty weather of Karachi.

— fiza (@Fizayyy) April 6, 2017
Karachi's weather swings 👌

— ﺮﺽ (@RizPlis) April 6, 2017
Karachi's weather is just like my people, it changes in no time.

— Bisma (@ladylunatiic) April 6, 2017
From 80% humidity to only 6% today! You make me feel like a fallen dry leaf #Karachiweather #lowhumidity

— Sameea Zafar (@SameeaZafar) April 6, 2017
Evrery city except karachi is having a pleasant weather. All we get is infinite amount of dhoop garmi.

— T.J™ (@talhajawed_) April 6, 2017
Rain, Rain, where art thou?#Karachi #Karachiweather #Pakistan pic.twitter.com/aqpKaIY2Iz

— AnushaAsif (@AnushaAsifS) April 7, 2017
Hospitals have already stocked up on supplies for the heat wave and camps for emergencies have started setting up in different parts of the city. Precautionary measures to prevent casualties from the heat are underway.
Stay tuned to Brandsynario for latest news and updates.