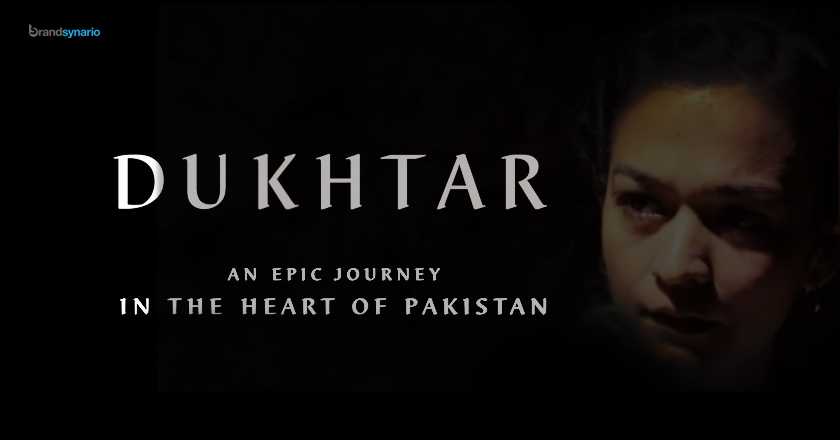 Upcoming Pakistani movie,  'DUKHTAR' is all set to make its first global premiere  at the prestigious Toronto International Film Festival [TIFF] on Friday 5th Sept 2014.
The movie is an Official Selection in the festival's Discovery section.
Followed by its international release, 'DUKHTAR's' theatrical release in Pakistan is scheduled for Thursday 18th September 2014 at leading cinemas and film houses nationwide.
The movies storyline is based on the issue of child marriage through the setup of a road-trip thriller that explores the intense drama of a mother's frenzied search for a new life for her daughter with the help of ex-Mujahid truck driver played by award-winning actor Mohib Mirza.
The film is set against the backdrop of the surreal landscapes and roads of Hunza, Skardu, Gilgit and Kallar Kahar all the way to the urbanscape of Lahore.
The feature film boasts a star studded cast that includes Samyia Mumtaz, Mohib Mirza, Saleha Aref, Asif Khan, Ajab Gul, Adnan Shah (Tipu), Abdullah Jan, Samina Ahmed and Omair Rana. 'DUKHTAR' was shot in 30 days in below freezing conditions with more than 200 extras and chase scenes filmed on the world's highest altitude roads.
Writer, director and producer of 'DUKHTAR', Afia Nathaniel said: ""It's a great honour for a Pakistani film to be selected for Toronto. We hope audiences all over the world get to enjoy this beautiful film with a beautiful heart. It will make you laugh, it will make you cry. It will make you sit on the edge of the seat until the very last scene of the film. I am so looking forward to bringing 'DUKHTAR' home right after Toronto.""
Jane Schoettle, Programmer for Toronto International Film Festival [TIFF], said "TIFF is dedicated to presenting strong contemporary stories from around the world, and Afia Nathaniel's 'DUHKTAR' is precisely that: a beautifully photographed, compelling story that is universally accessible. We are pleased to present the film in our Discovery section, where we aim to draw attention to this year's most exciting emerging directorial talents, a category into which Afia Nathaniel most certainly fits."
'DUKHTAR' has already garnered significant international acclaim and is the first Pakistani feature film to have won several prestigious and highly competitive film production awards including the Hubert Bals Fund, SORFUND, National Geographic's All Road Seed grant, Adrienne Shelly and Women in Film-NETFLIX Award.
The feature film's rich OST features contributions by acclaimed artists including Rahat Fateh Ali Khan and Shafqat Amanat Ali whose songs 'Ya Rahem, Maula Maula' and 'Jeenay Chalay' respectively have already been released publicly. More tracks from the OST for the movie will be released prior to the motion picture's premiere in Pakistan.
The film is produced by Zambeel Films in partnership with The Crew Films who have been at the forefront of television commercial production since 1996 and have already produced a successful feature length documentary "Without Shepherds". 'DUKHTAR' is set to release in various other countries following the festival release in Toronto beginning with its theatrical release in Pakistan. The full release plan for Pakistan will be shared closer to its release date in the local market.