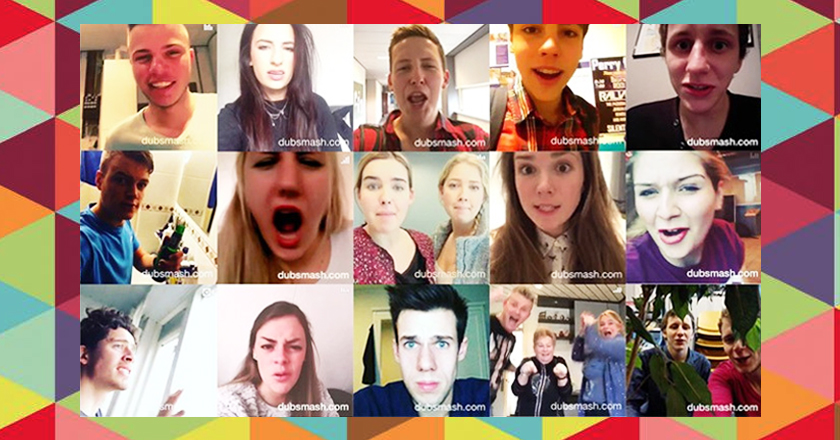 You thought Snapchat was probably the funk-iest and most interactive way to communicate, right? Wait till you download this new app called Dubsmash.
This app which is rapidly going viral is a video messaging service, which enables users to act and lip-sync popular dialogues from television history, Hollywood and even Bollywood.
Dubsmash was officially launched on November 19, 2014 and since then, it has rapidly gone viral across various target audiences.
It seems like now is the time when the app will catch up to Pakistani audiences as well.
Any average person with a funny bone could probably get completely hooked to. Any iconic dialogue you want to lip-sync to, just search it and video record it with your own or your friend's face lip-syncing it.
Video recordings are not more than 10 to 12 seconds in duration. From Bollywood's "Ja Simran Jee Le Apni Zindagi" to Hollywood's "Luke, I am your Father", users have uploaded almost all kinds of pop culture references to the App.
You can even act on Barney Stinson's signature dialogue from HIMYM: "This is gonna be Legen *wait for it* Dary!! Legendary!"
If there is some sound a user likes, or dialogue or song tidbit that the user wants to include, it can be added on to the app as a sound, but for that users need to sign up for the App first.
Once a user has selected a sound and recorded the video, it can be shared with friends via Whatsapp, Facebook, Instagram or even in a text message.
Termed as the "Fun way to Communicate", Dubsmash was founded by German Developers Jonas Drüppel, Roland Grenke and Daniel Taschik.
The app has been downloaded by 10 million users worldwide, and over the passage of time new languages are being added on to the app options including Turkish, Arabic, Chinese, Hungarian and so on.
However, ther are certain issues which users are facing regarding the technicalities in the app, and this includes the cropped settings of the video and the screen color which turns white or green.
Despite the complaints, the App is worth a download and a try-out.