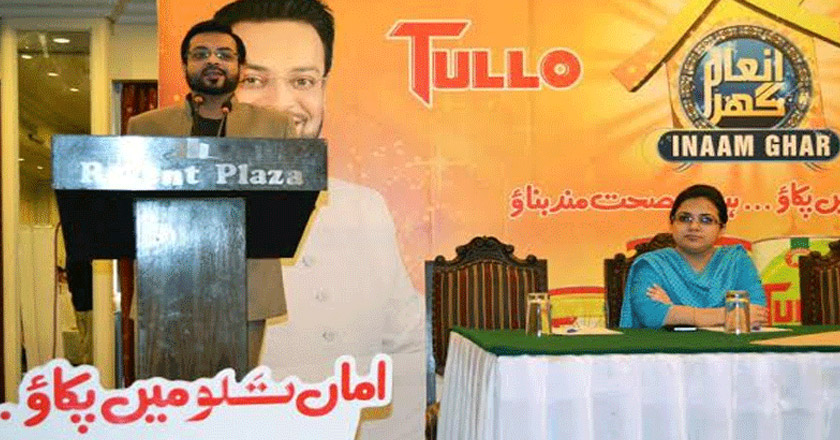 After aggressively endorsing Qmobile ka Phone, Firdous ki lawn and Honda ki Bikes in Lohe Qurani, Dr.Amir Liaquat has now officially announced his affiliation with Tullo cooking oil & Banaspati. 
A product of Wazir Ali Industries, Tullo Cooking oil was, at one point in time, a leading player in the cooking oil industry. However, with increased competition, the brand dwindled away into losses; with Amir Laiquat on board, Tullo is once again ready to take on the competition.
The partnership was announced at a press conference which was attended by media along with the management and marketing team of Wazir Ali Industries and Dr. Amir Liaquat.
Speaking on the occasion, Dr. Amir Liaquat said "I am immensely pleased to be associated with Tullo Cooking Oil and Banaspati which has become an integral part of every Pakistani household. It adheres to its core principles of maintaining quality standards by which it has consistently won consumer trust for the last 5 decades.  Tullo delivers great taste and quality at affordable price."
"Amma Tullo mein pakao, hamay sehat mand banao" is not only a tagline, it is a testament to what Tullo as a brand has been delivering for the last 50 years – a healthy proposition for the growing kids mental & physical development. Tullo is enriched with Vitamin A and D which are beneficial for health. Tullo products are manufactured at the state-of-the-art plant using international technology and adhering to strict quality control & standards." Said an official from Wazir Ali Industries.
Tullo's new journey with Dr. Amir Liaquat is taking a fresh start from Tullo Inaam Ghar. Tullo is also running a consumer promotion campaign simultaneously by the name of "Tullo Inaam Ghar" being communicated to consumers via TV & print mediums.
After grabbing the lion's share of TRPs and audience attention in 2013, Amir Liaquat is back with Inaam Ghar, a modernized version of his much famed Lohe Qurani transmission during Ramadan.
It remains to be seen whether Inaam Ghar would prove to be as successful as Lohe Quarni, for him and for Geo Network.