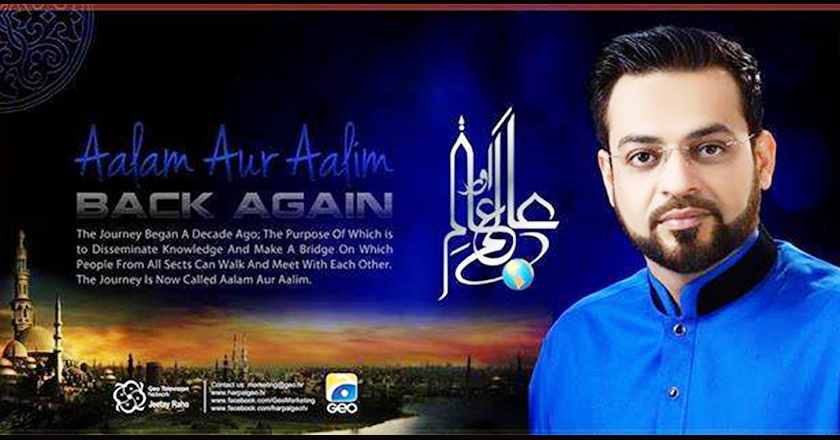 Dr. Aamir Liaquat Hussain, who is one of the most controversial Pakistani celebrities, has earned quite a reputation in number of professions; he has also been recognized as a politician, presenter, poet, and a religious scholar.
All the speculations have been proven right as the news of Aamir Liaquat going back to GEO got confirmed. Previously,  the rumor of Aamir Liaquat going back to GEO Network was all over Social Media, but it was just a a rumor no solid evidence of the claim was provided.
But now, official sources have revealed that Aamir Liaquat has privately joined Geo TV again and so he will start hosting "Aalim  Aur Aalam" on GEO Tv, although his demands have made GEO's officials life miserable.
Aamir Liaquat has always been in the limelight, be it some scandalous video leak or channel switching attitude or controversial statements, he has always been the most watched and yet criticized entertainer Pakistani Media has ever had.
Apart from these antagonistic incidents, Aamir Liaqaut's degrees, both BA and PhD were also declared fake after some investigation although he has never really shed any light on the matter.
Aamir Liaquat debuted on the TV screen as the host of the TV program Aalim Online which was aired on GEO News. Later, he switched channel to ARY Digital where he hosted a similar show by the name of Aalim Aur Aalam. It was from there that he started off this new fashion of Ramadan transmissions for Sahoor and Iftaar, with a program titled Rahman Ramadan.
Though, due to certain aims he left ARY Network and returned back to GEO TV Network in 2012 and in 2014, he started hosting a live game show Inaam Ghar. Later in 2014, when GEO was banned, Aamir Liaquat as usual, switched sides again and joined Express Media Group as president and Group Editor of religious pages of Daily Express.
Currently, the whiz is engrossed in hosting a live religious show Pakistan Ramadan on Express Entertainment.