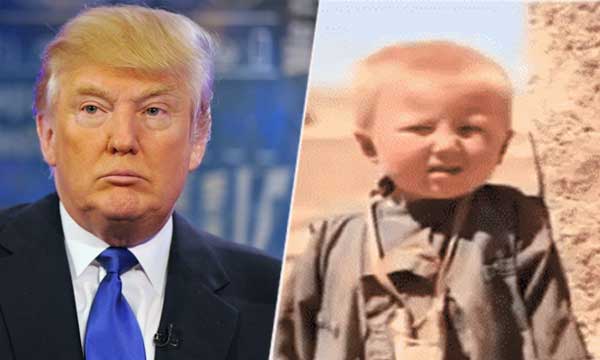 Donald Trump has become President of the United States of America and the whole world lost its chill. There was an uproar on social media regarding Trump's victory and amidst all the frenzy, a local news channel broadcasted a prime-time report that the newly elected American president was born in Pakistan.
Neo News took the social media sarcasm a bit too seriously and reported the news in a sensational way that Trump was a Pakistani child named, Dawood Ibrahim Khan.
According to Neo TV, Donald Trump was born in Shawal North Wazirstan Pakistan. His real name is Dawood Ibrahim.

— Lovely Kohat (@LovelyKohat) November 10, 2016
According to Neo News, this was Trump's childhood picture in Pakistan!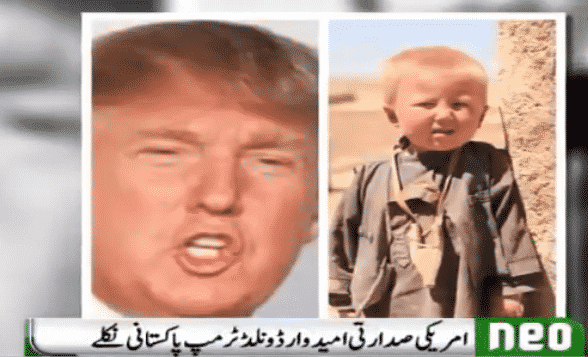 Sporting an enthusiastic tone, the media anchor revealed Trump's parents died in 1954 road accident and  his early education was from a Madrasa in Waziristan.
What is more, the report added that  British Indian Army captain then took Dawood to London and transformed him to Donald Tump.
See the shocking news report by NEO News for yourself here!
https://youtu.be/0f0mjZnumTA
For those who don't know, Donald Trump was born New York on June 14, 1946. He then began a real estate business with his dad after he graduated from college.
Seems like the news channel did not care what they are reporting to reap the ratings and eventually, misled the viewers.
American Election 2016: Hilarious Memes on Trump's Win That Will Make Your Day Less Depressing!
Read how social media reacted to the news!
MY MOM GOT A VIDEO ON WHATSAPP WHERE A PAKISTAN NEWS OUTLET SAID donald trump was born in pakistan & his real name is dawood ibrahim khan

— ️ (@samesoldlove) November 10, 2016
https://twitter.com/malihaxo/status/796542250964647936
you are mistaken. His real name is Dawood Ibrahim Khan according to this Pakistani news report https://t.co/XVTGLnPb5V pic.twitter.com/Nsvb7WamI9

— Chirag Wakaskar (@chiragwakaskar) November 10, 2016
Ajeeb qom hai… Dawood Ibrahim Khan is the real name of @realDonaldTrump & was born in Shawal, Waziristan haha this is extreme

— Adil Ansari (@AnsariAdil) November 10, 2016
He is Dawood Ibrahim with a mask 😂😂😂😂😂😂😂😂😂
Pakistan is full of dumbasses 😂😂😂😬😂#TrumpPresident #MAGA https://t.co/Tq4IkOvCmk

— MK (@chokwangun) November 10, 2016
As per Pak media #PresidentElectTrump was born in Pak n real name is Dawood Khan 😃😃😃#CashCleanUp#TrumpPresident pic.twitter.com/cTtSQIqHbO

— Anil Mattoo (@AnilMatt00) November 10, 2016
Ban Neo tv @reportpemra https://t.co/qOJF8iobqL

— India Demolished. (@Aamirviews) November 10, 2016
Woke up to the most funniest thing this morning… 45th @POTUS is not an American but actually a Pakistani, says NEO TV. I'm dead hahaha pic.twitter.com/ARKt8dXdpM

— Adil Ansari (@AnsariAdil) November 10, 2016
What do you think about Neo New's sensational reporting of Donald Trump? Share with us in the comments below.