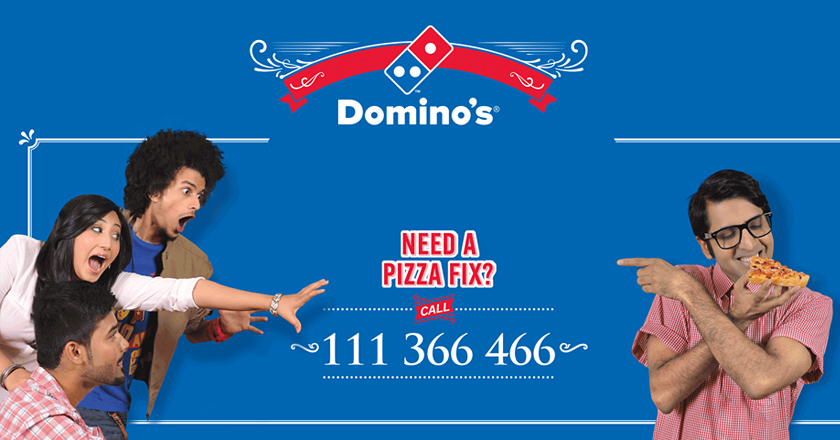 Domino's Pizza Pakistan has launched a third TVC following the same positioning, and theme as its last two advertisements.
Domino's Pizza is a U.S. based pizza-delivering franchise, which has been offering pizza deliveries in Pakistan for quite some time now.
This December, they have launched their third ad which has been conceptualized by Red Communications Arts Agency and features Khalid Malik, who is a popular RJ from CityFM89. 
The TVC, following the positioning of the previous two ads in the series, has focused on Pizza Delivery and Instant Service.
The theme follows a party taking place at a Geeky guy's place, where he himself is not really invited and the youngsters over there are so busy partying that they forget about him and he is basically locked out.
This is where Domino's Home Delivery Service comes in, the guy calls them up whilst the narrator says "Koi sune na sune, hum sunenge" (Whether others listen to you or not, we aka Domino's are going to listen to you). The Pizza arrives and while he is happy and devouring the Pizza, his group of friends peek out and a girl says that hey we have been waiting for you for so long.
The spot concludes with the tagline "Need a Pizza Fix? Call Domino's at 111-366-466". It is an immediate attention-catcher for fast food lovers in the country.
The advertisement itself is catchy, fresh and entertaining, and almost manages to elicit a laugh. The first TVC had Khalid Malik being annoyed by a group of mischief-making kids who were not listening to him and when he orders a Pizza they all turn up ready to become well-behaved kids in exchange for Pizza. The second TVC was in the same context with a bunch of non-working employees and a completely ignored boss, whom no one was listening to until he called up Domino's.
It remains to be seen yet how advertisers, critics and the general viewers respond to this advert. These ads hold significance because they are localizing an international franchise. If you have not yet seen the advertisment as yet, check it out over here: