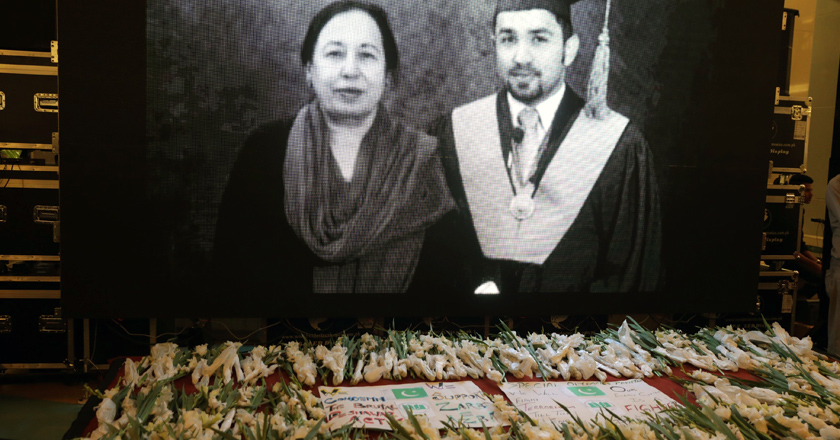 The highly anticipated, shopping extravaganza held at Dolmen Mall annually began yesterday on December 22, 2014. In the wake of a national tragedy, the festival began witha tribute to the innocent lives lost in the recent Peshawar attackof December 16th.
The shopping festival was launched with a one minute silence observed in memory of the 149 children who departed for an eternal abode in the Peshawar school massacre. A special memory wall was placed inside the mall in remembrance where visitors and well-wishers can scribble down their thoughts and sentiments for the children and the teachers. The gold medal-winning Special Olympics Pakistan team had also been invited to the opening ceremony and they were requested to write on this wall.
The Dolmen Shopping Malls has  three branches located across the city Karachi; Tariq Road, Hyderi and Clifton. The shopping extravaganza is a 16-day event where more than 50 brand partners with over 100 varied outlets are participating. Shoppers can look forwrad to various special offers, discounts and cash prizes and other attractive deals all over the city. There is also an array of exciting activities and mini events that will take place during the extravaganza.
The General Manager for Marketing at Dolmen Malls, Mr. Adnan Maqbool spoke eloquently at the Opening Ceremony. He said, "We are dedicating the entire Dolmen Shopping Festival to the victims of the Peshawar school attack".
"All the Dolmen Malls in Karachi for the next 16 days will be as a destination to promote and celebrate our art, culture and most importantly celebrate those precious moments with our next generation", he further stated.