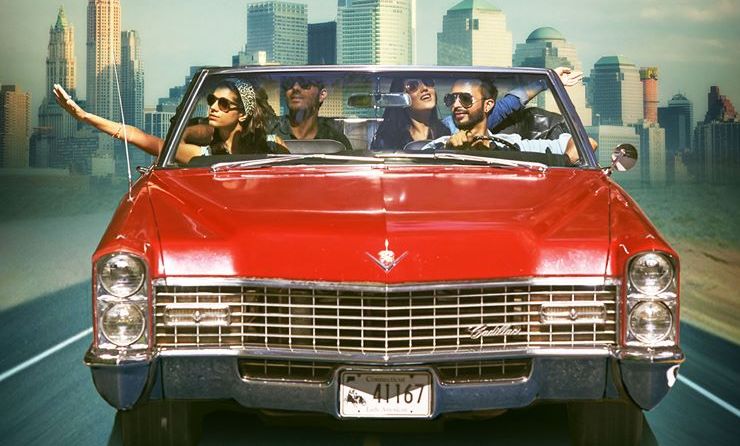 Dobara Phir Se saw a star-studded premiere in both Karachi and Lahore. Boasting a big cast of Adeel Hussain, Hareem Farooq, Sanam Saeed, Ali Kazmi, Shazz Khan and Tooba Siddiqui, the movie is all set to work its magic in Pakistani cinemas with its official release on Friday, 25th November 2016.
Evidently, Mehreen Jabbar's magnum opus has created quite an uproar about its arrival, effortlessly seizing the limelight from the rest of the films hitting the box-office this month.
The picture-perfect promos and the trailer of the movie speak volumes about Jabbar's directorial prowess.  The filmmaker has portrayed one of her stellar New York tales like never before on the nation's silver screens.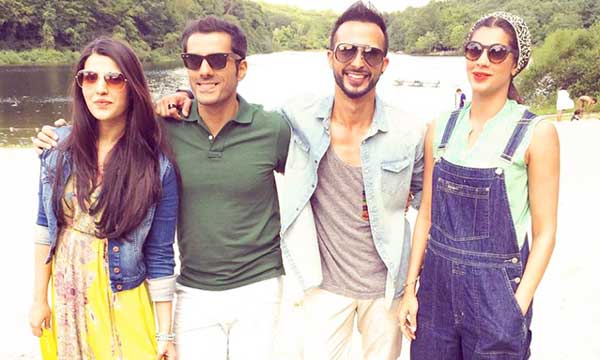 Now, after the premiere, reviews of Dobara Phir Se have started pouring in on Twitter. It seems that the romantic-drama will be making massive moolah at the  box-office and will leave the viewers hooked!
If you are planning to hit the cinemas to watch DPS, you must read all the reviews buzzing in about the movie on social media.
Actor In Law director, Nabeel Querishi deemed the film a must-watch!
Watched #DobaraPhirSe very well acted & directed ! Kudos to the team ! Must watch !

— Nabeel Qureshi (@nabeelqureshi) November 23, 2016
A large number of critics applauded Mehreen Jabbar's cinematic endeavor & ranked the movie as outstanding!
My review @dobaraphirse. @Jerjees @sanammodysaeed @mehreenjabbar @dawn_images #adeelhussain @ETLifeandStyle @MalihaRehman @PakFilmIndustry https://t.co/hw7OR9d9O5

— sadiq saleem (@sadiqsaleem2) November 21, 2016
Watched such an amazing Pakistani film! @mehreenjabbar you really upped the game with this one #DobaraPhirSe

— Anam Mansuri (@anammansuri) November 23, 2016
#DobaraPhirSe – A heartfelt movie that strikes the right chord. I can watch it dobara phir se, phir se… aur phir se.

— Raheel Rao (@RahealRao) November 23, 2016
@mehreenjabbar's #DobaraPhirSe is a true example of cutting-edge cinema.

— Raheel Rao (@RahealRao) November 23, 2016
Watch #DobaraPhirSe and you'll be surprised at how much hope is still left in Pakistani Cinema. Highly recommended!! pic.twitter.com/WQ2GH4wgZC

— Raheel Rao (@RahealRao) November 23, 2016
#DobaraPhirSe a well told story about real people . The kind of Cinema we need #MehreenJabbar #a#AdeelHusain #SanamSaeed #hareemfarooq

— SadafSays (@tomtomatoe) November 23, 2016
@sanammodysaeed it's crazy how you transform yourself into a completely different person for each character you play.Respect 🙌🏻#DobaraPhirSe

— Momin Ali Munshi (@mominalimunshi) November 22, 2016
#DobaraPhirSe An intelligent film which will surely be loved by every one who ever wanted Pakistani cinema to have a different flavour!

— Momin Ali Munshi (@mominalimunshi) November 22, 2016
However, some critics rated the movie as predictable but nevertheless worth a watch!
https://twitter.com/HELLO_Pak/status/801357595135143936
#DobaraPhirSe – it wasn't underwhelming, but it didnt overwhelm either. It was just #WHELMING!!…and the music OH MAN…WOW!!

— Ahmed Saeed (@medsaeed) November 23, 2016
It was predictable but something very relatable
Like a movie everyone could connect with and want to watch #DobaraPhirSe ! 👍🏻 pic.twitter.com/GqwgVU6Ald

— Muna Moini (@Muna_m89) November 23, 2016
Dobara Phir Se Movie: 7 Reasons Mehreen Jabbar's Film Will be the Biggest Blockbuster of 2016
Planning to watch Dobara Phir Se? Let us know in the comments below!
Stay tuned to Brandsynario for more updates