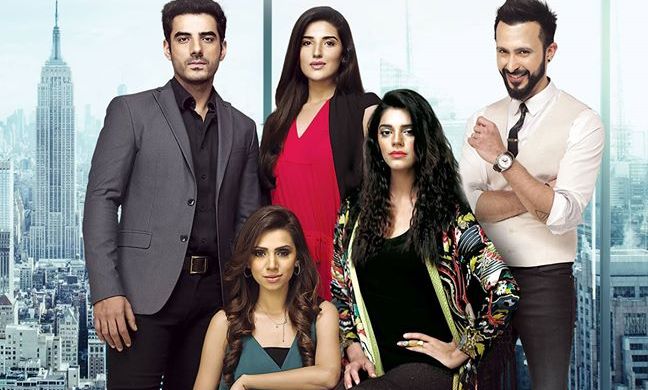 Launching itself with an impressive trailer and picture-perfect promos, Mehreen Jabbar's "Dobara Phir Se" weaved quite a hype and hoopla of being the latest installment to Pakistan's film landscape. The movie did everything perfectly in order to lure movie-buffs to theaters. Luckily, the cinematic endeavor has turned out to live up to its hype.
Dobara Phir Se (DPS), a contemporary urban romance, takes a definite progressive step in the right direction for Pakistan's cinema industry. With a powerful plot and phenomenal musical scores properly integrated into the narrative of the movie, this movie sets a benchmark for all the local movies to follow.
But the best part of DPS is that it wasn't overwhelming or underwhelming. It was just whelming.  The movie will surely not disappoint the audience and the music scores will definitely get them hooked to the soundtrack!
So keeping spoilers at a minimum, let's begin!
THE PLOT
Our story begins with our protagonist "Hammad" (Adeel Hussain) arriving to his friend Vassay's (Ali Kazmi) house warming party. Here he meets "Natasha" (Tooba Siddiqui), a nice urban girl who later becomes his girlfriend. Hammad also comes across "Zainab" (Hareem Farooq), a troubled married lady. The hero is attracted towards Zainab from the first moment he laid his eyes on her.
As the story progresses, Hammad and Natasha start dating. But in the same time, Zainab divorces her aggressive husband Asif (Shaz Khan). While in a relationship with Natasha, Hammad heads out with his friends Vassay and his girlfriend "Samar" (Sanam Saeed) and of course, Zainab – now single – on a life altering road trip. After the journey, Hammad and Zainab are hurled into each other's lives and realize that they can't live without each other.
As always, there are responsibilities in the way for Zainab to accept, including looking out for her son "Zaid" (Musa Khan). Later, when she is ready, then it just turns out to be bad timing.
But in the end, love prevails!
Dobara Phir Se Movie Reviews Rate the Romantic-Drama as Outstanding & a Must-Watch!
THE HIGHS OF DOBARA PHIR SE
I would straight up give this movie a whopping rating of 4.8 out of 5! Dobara Phir Se is finally a great attempt at a good movie and it makes me happy to see directors such as Mehreen Jabbar do a mind-blowing job.
The best part of the movie is its soundtrack. Pakistan has always been good at that. The songs were amongst  some of the best that have rolled out this year. There were times when you would want to move along to the beats.
The music and songs were properly and creatively integrated into the narrative of the story. Every beat was complimenting the scenes in their respective manner.  Seemed like that musical scores were developed keeping the characters and the story arch in mind. The song writers and musicians were aptly part of the creative process.
The performances by the cast were stellar. All the actors aptly conveyed the emotions of the characters. The dynamics and chemistry among them were interesting. Their roles were realistic not comical or far-fetched concepts of young people living in New York.
The relationship between Hammad and Zainab wasn't like a fantasy, it was chronologically relatable. You will witness their relationship grow overtime. The filmmaker kept in mind that love takes time and showcased its growth in their medium of storytelling.
And lastly, I'd like to appreciate the child star, Musa Khan. The gullible ten year old star of the movie played an integral part in driving the movie forward. Khan stood toe to toe with all the gleaming cast and played his role wonderfully. Kudos Kid!
Also, thumbs up for finally appreciating our mother tongue in USA. That is part of Dobara Phir Se's beauty that it is relatable in every sense.
THE MISSED OPPORTUNITIES
The movie had a strong story, a well knitted narrative and brilliant performances by the cast. But it also missed out on a lot.
10 minutes into the movie and the plot became predictable. It felt like One Tree Hill meets Kal Ho Na Ho meets HumTum. The script lacked strong dialogues and some inspirational moments that could have stayed with us for generations to come.
Accordingly, Hammad and Zainab's relationship was sweet. They talked a lot about how they were a big part of each other's life and how much they enjoy being with one another. But they weren't any convincing moments that showcased that as so.
Showing montages of time spent together isn't enough to convince the audience that they were meant to be togather. The viewers are supposed to feel that chemistry, love and energy being radiated from the characters.
The locations and sets used were great. They couldn't have gotten better cinematic spaces than these. But Jabbar failed to use them to their full potential.  Locations should be important to the narrative and should become a medium of expression in the hands of good film makers.
Also, the blatant advertising turned out to be disappointing. The movie itself is good. But suddenly, pushing a packet of OYE HOYE chips in New York and having Vassay (Ali Kazmi) sport a OYE HOYE branded t-shirt was annoying.
And it was a major shock to see Qmobile advertised across the United States. I really hope such blatant advertising comes to a halt in the near future or far.
All in all, Dobara Phir Se has certainly set the bars higher for all the other upcoming movies to follow. I certainly recommend this movie to all above the ages of 16. It is a light- heart urban romance drama that a lot of us can relate to!
Contributed by: Ahmed Saeed
Lahore Se Aagey Movie Review: Is Saba Qamar's Debut Movie Worth the Watch?