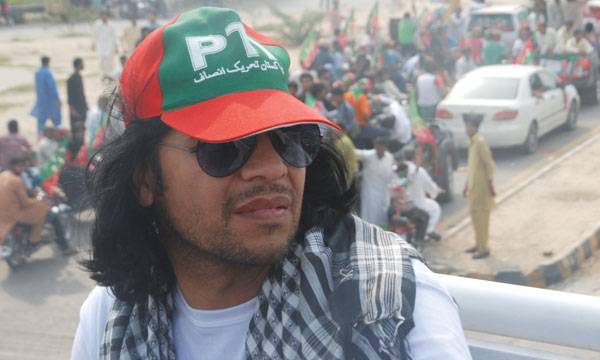 The man behind the rocking rallies and the melodic marches of Pakistan Tehreek-e-Insaf (PTI), DJ Butt is seemingly not happy with the political party for withholding his dues that have been piled up to PKR 50 million.
Now threatening to sue PTI over pending payment for his musicals services on Islamabad's D-Chowk, the popular DJ Muhmmad Asif revealed to the media that out of a stacking sum of PKR 110 million he has been paid only PKR 60 million till date.
Moreover, he claims that his overall cost of services summed up to PKR 130 million, which was later diminished to PKR 110 million on special consideration
While he still awaits the clearance of PKR 50 million for the past seven months, he warns that he might not hesitate to take legal action against the party anytime soon.
Undoubtedly, his musical fillers and party tunes were the life and soul of the PTI rallies, keeping the crowd of supporters pumped up and entertained.
Meanwhile, PTI leader Naeemul Haq has assured the DJ of D-Chowk that his payment will no longer be withheld and even invited him to Islamabad for a peaceful settlement.
Shockingly in an interview to Dawn News last year, the disc jockey had denied taking any payment for sit-ins in Islamabad, claiming that he is a part of the protest like the rest of the PTI fans.
Apparently, DJ Butt has forgotten that it were the PTI's protest gatherings that made him popular and famous amongst the masses in the first place.
Have something more to add to the story? Share with us in the comments below.