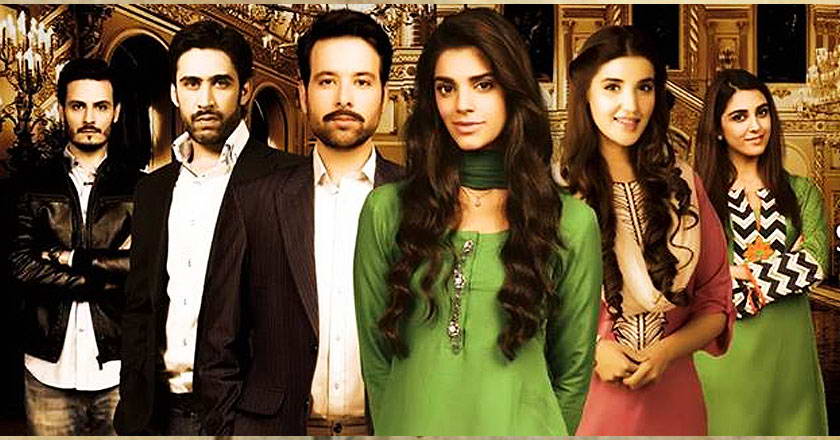 Remember HUM TV's blockbuster Humsafar?
The audience was so obsessed and gripped with the drama that the entire nation took ages to get over the romantic tale of "Ashar" and "Khirad".
READ MORE: When TV characters tick
It seems yet another story by Ishtiaq that will follow Humsafar's footsteps will be none other than her recent Hum TV drama "Diyar-e-Dil".
Set in the breathtaking valleys of Gilgit-Baltistan, the directorial project of Haseeb Hassan has left the viewers spellbound with its magnificent set locations and outstanding cinematography.
Six weeks down and Diyar-e-Dil is on the verge of winning the hearts of the viewers. With its star-studded cast comprising of Abid Ali, Meekal Zulfiqar, Sanam Saeed, Hareem Farooq, Ali Rehman, Osman Khalid Butt, Behroze Subzwari and Maya Ali, the drama was bound to reap the limelight and get recognition amongst the audience.
READ MORE: Sanam Saeed's Diyar-e-Dil – Another Hit in the Making?
Worthy of mention is the soothing, soul-stirring OST of the drama sung by Zeb Bangash and Momin Durrani. Check out the OST here.
The PLOT
Full of visual creativity, fueled with intense passion and topped with power-packed acting, Diyar-e-Dil's generational story revolves around the Pashtun family headed by the rich, dominant and powerful Bakhtiar Khan aka Agha Jaan, played by Abid Ali. He takes pride in his two sons Behroze, played by Meekal Zulfiqar and Sohaib played by Ali Rehman, the two brothers who love each other to death.
But apparently the patriarchal Agha Jan, who considers himself as the master of everyone's fate in his family, did not realize that his eldest son Behroze will summon up the courage one day to defy his father's command.
Seemingly, Behroze was betrothed to his cousin Arjumand, played by Hareem Tayyab since they were kids. But he meets the women of his dreams in the course of his studies, Roohina played by Sanam Saeed. Eager to marry her, he breaks his childhood engagement with Arjumand against the will of his authoritarian father and leaves his home to evade the Nikkah to his cousin. Disowned by his father and bankrupt, he marries Roohina and struggles to build a home for themselves.
In the meantime, it's a doomsday scenario for the happy-go-lucky Sohaib who eventually loses his beloved brother and gets ordered by his "zaalim" Agha Jaan to marry Arjumunad. Poor Sohaib tries hard to escape from the mess but could not afford to disappoint his heartbroken father even more. He reluctantly marries Arjumunad, who is gone cuckoo for being rejected by her childhood crush and both the couple live a life of agony with each other.
Guilt-stricken and nostalgic, Behroze returns to his Haweli with his wife to seek forgiveness from Agha Jaan. But blinded by anger, his determined daddy refused to call him a son and kicks him out of the home.
The last episode reveals Arjumuand and Sohaib coming to reconciliation for the sake of their newborn child, Wali whose character will be played by Osama Khalid Butt in future. While Roohina and Behroze suffered from the miscarriage of their first child, the promos seemingly reveal that they will welcome a baby girl, who will be played by Maya Khan in the upcoming episodes.
PERFORMANCES
The character-driven drama accentuates powerful screen presence and high doses of chemistry between the two couples of Meekal and Sanam along with Hareem and Ali. The sweet and charming character of Roohina has been depicted well by Sanam while Meekal wins as the aggressive disobedient Pashtun son and the romantic husband.
Ali 's Pashto accent is adorable throughout in the drama. He has effortlessly depicted the easy going nature and love for his brother with an incredible performance. Meanwhile, Hareem is doing her best as the love-worn haseena to her cheating fiancé and a frustrated mocking wife to her hubby.
But it is Abid Ali who deserves the applause and the most praise for his role as the tyrannical and proud Agha Jaan, who blasts anyone who even thinks to come in his way.
Seemingly, viewers can not wait for Osman and Maya's entry who will carry the tale of the generation.
THE VERDICT
All praises for Diyar-e-Dil, this drama seems to have all the elements to be HUM TV's next hit. With an outstanding entry in the season, the drama is pacing fast and is successfully keeping the viewers hooked. Moreover, the drama's crisp editing and exceptional direction will make you head over heels in love with the natural scenic beauty of Baltistan.
We absolutely can't wait for the next episodes of Diyar-e-Dil, which airs every Tuesday on HUM TV at 19:00 PST.