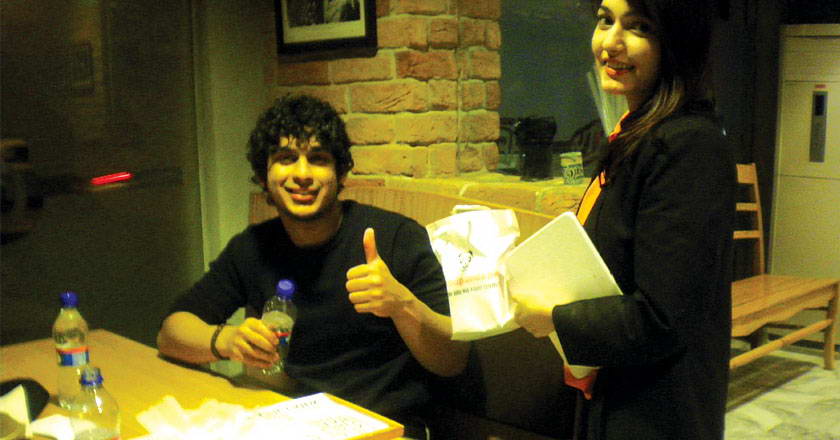 In past two weeks, Pantry, Del Frio, Gloria Jean's, Red Emperor and a number of other restaurants have been seen blooming with fiery orange tees and a trail of smiling customers. If you got a chance to visit these restaurants, then you must have spared a hefty amount on your total bill, courtesy foodpanda.pk, leading mobile and online food court.
Most online brands in Pakistan conventionally connect with their customers and are rarely seen approaching the target market directly. Recently, foodpanda.pk ambassadors have been spotted at various restaurants carrying iPads with foodpanda mobile app, engaging walk-in customers into enhancing their food experience.
Restaurants in DHA, Clifton & SMCHS
So far, foodpanda Ambassadors have been located at:
Del Frio
Vintage
United King
Gon Pacci
Hoagies
Gloria Jean's SMCHS
Pantry
Patio
Red Emperor
Orrery
The activity begins at the start of lunch hours and goes up till midnight. A walk-in customer is asked to place order using devices held by ambassadors, carrying foodpanda mobile app. Upon placing order for food instead of asking the server to take it, the customer becomes entitled to 20% discount on their total bill. Ambassadors also run a raffle draw where sit-in customers win a number of foodpanda goodies, provided they place order using foodpanda app.
Customer Benefits to Activity
This kind of initiative has never been taken by any online food ordering business in the past years. As mentioned earlier, foodpanda empowers dine-in customers to order their food electronically and win a privileged 20% discount on the bill. Sitting in a restaurant, placing order with a gadget and getting the same quality of food served on the table is an overall unusual experience for people
When a customer places order inside the restaurant with the help of ambassador, GPRS Printers placed in restaurant kitchens receives instructions directly. Most foodpanda restaurant partners carry GPRS Printers which receive direct orders once placed by customer.
Message from Foodpanda
Benefits, benefits and benefits. If one looks beyond these benefits there is a subliminal message for everyone who has ever had a discomforting experience with foodpanda.
Consider this situation: A customer places an order with foodpanda and due to uncontrollable haphazard arising on restaurant's part, gets his food delivered late. Customer complaints are then directed towards foodpanda, being the sole point of contact.
The case does not imply that foodpanda has been slow in processing order request or their staff is untrained. This is where restaurant activation provides strong evidence to foodpanda's highly equipped systems and fast paced order processing. Late delivery of food and other complaints are unfortunate mishandling on restaurant's part. foodpanda works as a channel for customer to find their food and place order with great convenience.
By this activity, awareness among customer base which remains 'untouched' owing to lack of information on online food ordering services has been improved. Customers who order in a restaurant during foodpanda's activity hours experience simple, fun and faster food serving as ever promised by the brand.
Who is next?
It is difficult to tell which restaurant would foodpanda hit next but their social media communications announce activity a day prior to activation. To stay informed of their next adventure at a restaurant near you, keep visiting foodpanda Facebook page.