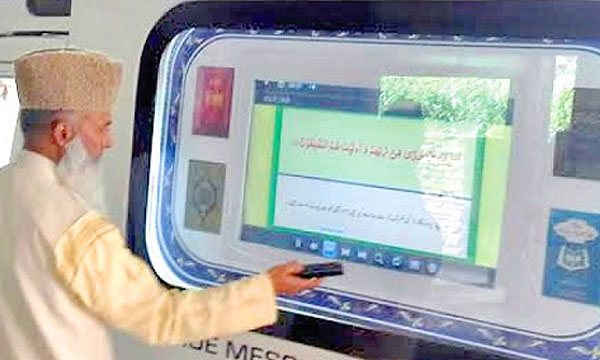 In order to promote the peaceful Islamic messages of the Holy Quran, a mobile van was launched containing the digital version of the Quran. The van was launched by Muslim Scholars in Srinagar to make Quran freely available and accessible to everyone.
The digital version of the Holy Quran was made available through this mobile van which will be moving around different areas of Srinagar. Irrespective of the religion, the services will be offered to anyone who wants to know about Islam and is interested in knowing about it.
Read More: Oldest Quranic Manuscript Found in Birmingham University
The mobile van was launched by the Maulana Khalid Saifullah Rahmani, a well-known Islamic scholar and the General Secretary of All India Muslim Personal Law Board. Furthermore, during the launch of the van, Muslim scholars were on board to communicate with people.
Any tourist, individuals belonging to any faith can discuss queries if they have related to Islam and Quran. Muslim scholars will interact and will help the local and tourists to resolve any queries if they have.  The mobile van also provides the facility of downloading the Quran in various languages.
Also See: Lindsay Lohan Converts to Islam? Carries Quran to Community Services
The main purpose behind this new concept is to remove any prevailing misconceptions related to Islam, Quran with the help of Digital Media including mediums such as pen drives, CDs, DVDs, mobiles and hard drives.
Sartaj Ahmed of Satya Sandesh Foundation (SSF0 said in the launch ceremony that "It is the duty of every Muslim to spread the message of Allah to everyone as the Holy Book was not revealed only for Muslims alone."