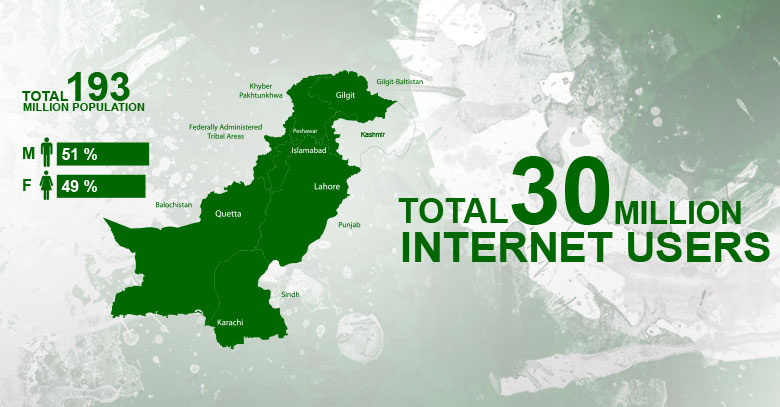 By Furqan Khan
Nowadays, everything seems gloomy in Pakistan, however, its digital landscape is accelerating at a good pace. The outlook for local entrepreneurs and venture capitalists looks sturdy in long-run. With a population of 180 million, Pakistan has an ever-expanding internet user base which currently stands at 30 million users, with more than 9 million on Facebook. 
With such a wide array of undeveloped digital markets, only 17% internet penetration, opportunities for technological entrepreneurs is on the rise.
Demographically, Pakistan is a young country as 70% of its population is under 30 and Business and Technology Institutes around the country are graduating thousands of potential entrepreneurs. Pakistan's young graduates have started pursuing entrepreneurship very recently and we can notice an upward trend in internet based business. When one considers the high cost of establishing a traditional business then one realizes the advantages online entrepreneurs are privy to.
The Internet industry dynamics have also changed quite dramatically in recent times with 2012 being a possible turning point for rapid growth. Heavy investment in the mobile money transfer facilities, Cash on Delivery logistic solution, venture capital and platform and incubators for startup business, have made young entrepreneurs more confident in venturing into the wilderness of innovation and startup simple yet profit generating online businesses.
Recently Pakistan has developed the following firm foundations to attract young people to take risk.
Mobile money transfer solution, most famous of which is EasyPaisa, has made online transactions convenient for both the buyer and seller. These online platforms for transaction have reduced the hustle of ensuring smooth and secure monetary dealings. Whatever services these young entrepreneur provide to their consumers, mobile money transfer makes sure they receive their payments in time.
Recent launch of Cash on Delivery Logistics services has tackled the lion share of problem for e-stores. Before this service it was almost impossible for online startup businesses to make country wide rather city wide deliveries. These startup were already financially unstable, they simply could not afford to setup their own delivery system.
Previously this logistical issue kept many at bay, however, with launch COD service by companies like TCS and BlueEx made these deliveries more convenient and allowed online startup to capture and service country wide consumer base.
Another pertinent and most prominent issue that was faced by Pakistani entrepreneurs previously was lack of funds and business support in the very early days of startup. They were on the mercy of harsh realities of Pakistani and global market and faced competition from global e-business.
However, over the time Pakistan developed its own array of financial institutes to support e-businesses and startup incubators. Now both local and international venture capitalists are more confident in investing in Pakistani startups.
Similarly, initiative like Plan9 takes a startup or young business into their fold and guide young entrepreneur to make their business more stable. Moreover, seminars and entrepreneur platforms like Startup Weekend and Startup Grind are providing necessary exposure and guidance to young entrepreneur to run their business successfully.
Pakistan has seen a couple of online successes, biggest of which is Rozee.pk, an online platform for employers to find prospective employees. It has grown from a small time website to the major human resource recruiter platform used by more than 5,700 Pakistani corporations.
Moreover, to most visited Pakistan website which started as blog and turned into huge success are PakWheel and GSMarena. PakWheels provides a virtual market to faciliate the selling and buying of vehicles, allows its users with unique database to compare features of cars and know the feasibility and price before buying.
Similarly, GSMarena is now one of the world's most visited wesite to find latest information about any mobile handset in the world. Its unique interface provides users with opportunity to compare price and handset specifications of different mobile phones.
Lastly but most recent is the success of daraz.pk. First of its kind e-store in Pakistan, which facilitates consumer to browse from thousands of brands available on its website and make a home delivery without any hustle to move.
The environment is right and foundations are being developed.  Now local entrepreneurs should seize this opportunity to capitalize on the open market. Being a strong first-mover will undoubtedly be an advantage for entrepreneurs and investors alike.