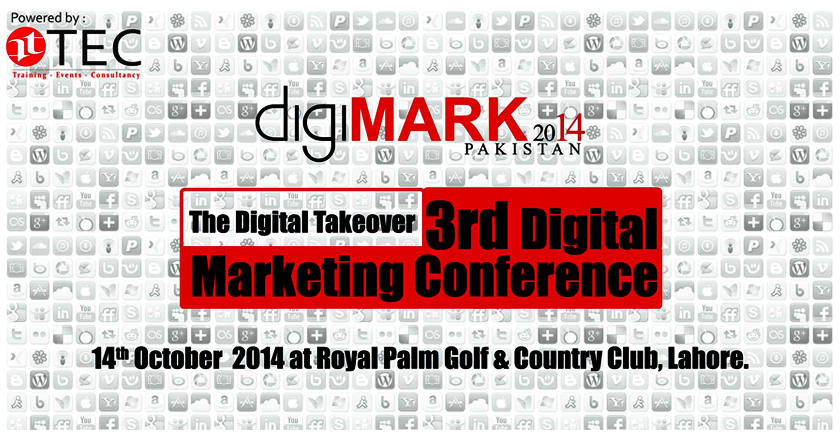 Theories of Leadership articulate that the war of ideas can be won by ideas only!
Digital Marketing is the fairly a new idea for Pakistani market, though, the fact still remains concrete that "digital takeover" is clouding the entire Pakistani market, rapidly. In past few years; the number of digital users have amplified, and to accommodate all of them businesses have been choosing this tool as it is more cost effective, also the reach is definitely way better than any other medium.
In order to understand this phenomenon of "digital takeover" along with its usage in modern business atmosphere, TEC has organized a one day conference in Lahore; the event is called"DigiMark 2014". DigiMark is Pakistan's premiere digital marketing conference, which started in 2011 and this year, it will be the 3rd sequel, which is scheduled for the middle of this month.
The previous conferences of Digimark were adored by the presence of some big names of Pakistan's corporate world and the thespians of digital marketing. Following the same trend this year as well, DigiMark is giving its attendees the opportunity to learn from the pro's discussion, workshops, and expert talks.
This year, the business personalities that would attend the conference include Mr. Obaid Saleem, Director, Strategy & Planning, Zong, Mr. Ehitsham Rao, Director B2B Marketing, Mobilink Mr. Syed Abid Ali, Country Head Pakistan, McAfee Mr. Zeeshan Suhail, Manager, Public Affairs, Nestle Mr. Salman Mazhar, Head of Marketing Wateen Mr. Peter Lucas, Director, Marketing, Online & OOH, Jang Group, Mr. Fouad Bajwa, Senior Consultant,FBMA Consulting , Public Policy Analyst (Internet & ICT),  Mr. Abdul Aziz, CEO, Lumensoft Technologies, Mr. Mansoor Nawaz, COO, Mausummery, Mr. Furqan Mehmood, Vice President, ExecuTrainings International, Asia Pacific Region, Mr. Muaz Raja, Chief Strategy Officer, Strategic Alliancez, Mr. Usman Latif, Founder & Lead Consultant, Digital Marketing Pakistan™, Mr. Azm Dar, Growth Hacker, Kickstoro, Mr. Khurram Amin, Director, Strategy, Commtel Digital, Mr. Ahmed Khan and MD Asia, Internet Rocket, GmbH, Founder Kaymu.pk
The conference is scheduled on 14th of October, in Lahore. The event would surely host multitudes of Marketer, Brander, Innovator, Entrepreneur, Digital Executives and Professionals, Designer, Business Leader, Business Developer, Agency Executive, Content Writer, Bloggers etc.
As far as the venue and event details are concerned, they can be viewed at the DigiMark 2014's official website
For  further assistance, introduction and glimpse of past events, check out the video below;
Digimark 2014 from TEC on Vimeo.