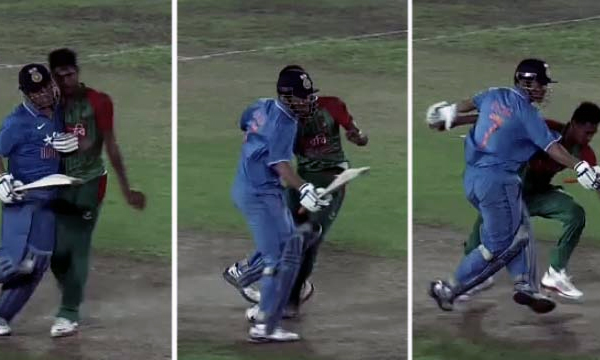 After the shocking defeat to Bangladesh in the first ODI, Indian team had more wounds to lick as captain MS Dhoni faced a 75% match fees penalty from the match referee for pushing the Bangladeshi debutante Mustafizur Rahman.
Social Media has come alive with criticism pointed towards the Indian skipper as it is quite clear in the video that Dhoni could have easily avoided the collision. But does that prove Dhoni's guilty? Upon a closer inspection, it seemed there is another angle to the incident.
Earlier in the same match, Mustafizur Rahman was also involved in something similar only this time it was Rohit Sharma. Unlike Dhoni, Sharma did avoid the collision only by a margin after which he warned the bowler and asked umpire to intervene as clearly Mustafizur tried to jump into Sharma's way – almost getting him out (Indians can thank the NOT so direct throw from the Bangladeshi fielder).
So, now is it really Dhoni's fault in indulging Mustafizur's seemingly intentional habit of coming into the path of a running batsman? Well, lets call them both wrong on their parts. Hence the decision from the umpire which fined MS Dhoni 75% match fee as he was found guilty under Article 2.2.4 of the ICC Code of Conduct. Mustafizur is also fined a justified 50% of his debut match fee under the same violation.
Watch both the incidents here:
It seems Bangladesh did win the match but the hosts lacked in sportsman spirit. Mustafizur's mistake however doesn't pardon MS Dhoni's acts – as they both stood equally responsible for their acts.
Indian Captain MS Dhoni did dilute the situation in the post match press conference. Check out what Indian Captain had to say in his defense:

Video Courtesy: Star Sports
Who do you think was guilty? MS Dhoni or Mustafizur Rahman? Let us know in the comments section below!