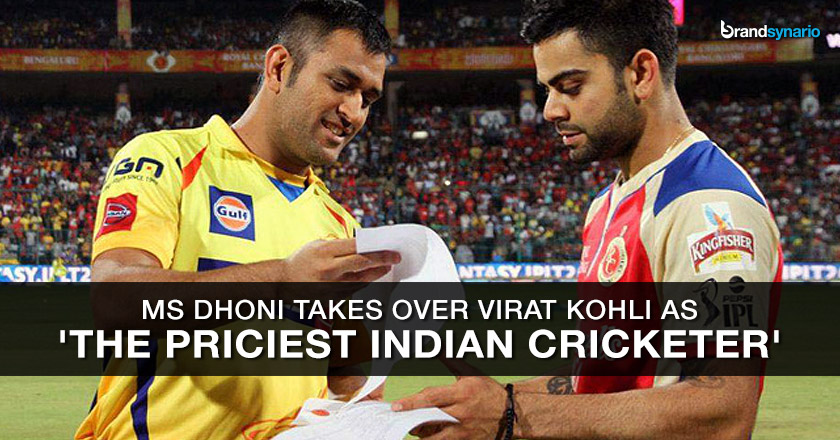 MS. Dhoni is a man with many titles, he is known as the coolest cucumber for his tireless patience, has a 84% success rate of captaincy, he is also one of the greatest finishers in limited-overs cricketer and now, he is proudly 'the priciest brand endorser in India'
Despite a bad loss against Sri Lanka in ICC T20 finals, Dhoni has overtaken Virat Kohli as the most expensive endorser with endorsement fees of INR. 13 Crore. 
According to a leading Indian website, MS Dhoni's brand worth has climbed up by almost 60% in the last four months. 
Surprisingly, these 4 months comprises of some bad career hurdles for Dhoni where he became a target of match-fixing and corruption for his IPL team Chennai Super Kings.
Under his captaincy, India lost two major trophies and fared poorly with back-to-back losses to South Africa and New Zealand.
As of 2013, Dhoni's brand endorsement deal amounted to INR 8 crore per deal per annum but last year, India's rising star, Virat Kohli took over his captian when he signed INR 10 crore deals with Adidas. 
Commenting on Dhoni's recent brand endorsement deals, his manager said, "Dhoni has recently signed deals with six to eight brands where he will get a share of revenues generated by those brands," 
Dhoni currently endorses 21 brands including Exide, Pepsi, Aircel, Reebok, Star India and many more.
Brand experts believe Dhoni's perseverance and consist performance has made him a reliable face for brands,"Dhoni's brand value has got no dent because of his consistency and stunning performances of team India," said Latika Khaneja, director, Collage Sports Management.
"Also, Indian audiences and sports lovers have a very short memory," she added.
"One of the hardest working players in the cricketing community, Dhoni captains the team for all three formats of the game for India as well as the Chennai Super Kings.  His hardworking, unconventional style fits in perfectly with the culture of our brand," said Spartan, an Australian sports equipments brand, which recently partnered Dhoni in revenue-sharing agreement.