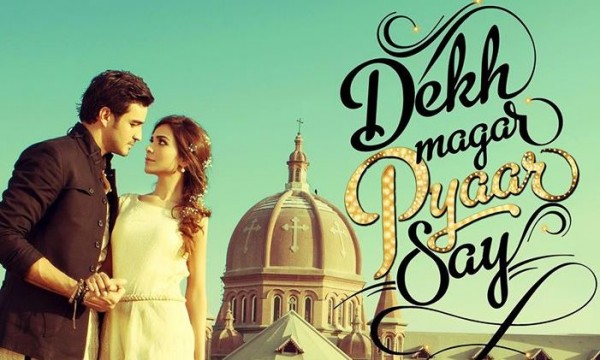 Disclaimer: The views expressed below solely belong to the writer and does not necessarily imply Brandsynario's opinion towards an individual, organization or a group.
Boasting glitz, glamour, razzmatazz and pomp at its high-flying red carpet premiere in Karachi's Capri Cinema, Dekh Magar Pyaar Sey welcomed the glitterati of Pakistan's entertainment industry for the candid screening of its much-hyped,  rom-com tale.
The summer entertainer is penned down by the writer of "Karachi! You're Killing Me", Saba Imtiaz while the directorial duty resided in the hands of the notorious ad-filmmaker Asad-ul-Haq.
Watch here: Dekh Magar Pyaar Say OST Launch
The movie marks the debut of Pakistan's hottest bachelors, budding entrepreneur Sikandar Rizvi, grandson of the 'Malika-e-Tarannum' Noor Jehan. Sharing the screen with him is none other than the sultry and stunning, Humaima Malik.
What's more, the love story set in Lahore flaunts cameos by Humayun Saeed, Hassan Sheheryar Yasin and Meera along with a sizzling item number by Aamna Ilyas.
Watch here: Amna Ilyas  'Kaala Dooriyan' Item Song in Dekh Magar Pyaar Say 
At its star-studded premiere in the metropolis, a crowd of celebrities featuring Adnan Malik, Adnan Pardesy, Adnan Siddiqui, Ahmad Ali Butt, Amir Adnan, Anoushey Ashraf, Deepak Perwani, Dua Malik, Fouzia Aman, HSY, Huma Adnan, Humayun Saeed, Irfan Khoosat, Jami, Khalid Malik, Mohsin Ali, Musharaf Hai, Nadeem Mandviwalla, Nida Yasir, Saqib Malik, Kohja  and Ujala Zia  graced the event.
View pictures from the Karachi premiere of Dekh Magar Pyaar Sey here.
However according to the reviews on Twitter, the movie has been unsuccessful in working its magic over the box-office.
@AsadUHaq failed miserably while putting up a high budget fashion show on big screen! #DMPS

— Pakistan Zindabaad (@HariMirchein) August 16, 2015
#DMPS : The direction was superb, acting was superb .. The only thing missing in the movie was story !! Yet a big applause for a struggle!! — Faizan Buksh (@FaizanBuksh) August 16, 2015
My take on #DMPS, first half looked like Sprite's TVC. A bit of Jab We Met, mixed with Banti aur Babli. Not bad for time pass. #Lollywood

— Faizan Lakhani (@faizanlakhani) August 15, 2015
Over acting ka double doze by @HumaimaMalick #DMPS — Atiq Rajput (@atiqsenseflow) August 16, 2015
My Take on "Dekh Magar Pyaar Say" #DMPS pic.twitter.com/RxWZgPF5Uz

— Erphan Qayyum (@ErphanQ) August 16, 2015
Fancy shots, neon lights and vintage cars don't make a movie. You need half decent actors at least #MatDekhMujhay #DMPS — Shaheryar Popalzai (@spopalzai) August 16, 2015
#DMPS humaima is annoying in fhe first half. @sikanderrizvi reflects boy next door well but director could have altered talking to camera

— Ambreen Haider (@ambreenhaider01) August 16, 2015
I went to see #dekhmagarpyaarsay #dmps yesterday. The film left me feeling confused as it lacked focus or impact… http://t.co/veaX3ZspcT — Red Alice Rao (@RedAliceRao) August 16, 2015
This movie #DekhMagarPyaarSay made me not to watch any movie ever again I went cinema just to suport pak film ind but…..

— Omair Balouch (@omair223) August 16, 2015
if u are planning to watch this movie then my advice to you is that DONT GO, & if you still want to – then go alone #DekhMagarPyaarSay #DMPS — Hammad Tung (@hammad_tung) August 15, 2015
#Sprite ne apna marketing budget zaaya hi kiya #DekhMagarPyaarSay #DMPS

— Hammad Tung (@hammad_tung) August 15, 2015
#DekhMagarPyaarSay 1 of da worst movies I hv ever seen. #flopmove.#riskshaw pe shuru #rickshaw pe khatam. NO THEME:( pic.twitter.com/a33TaMoAMV — fatimah (@igirlscientist) August 15, 2015
First half of #DekhMagarPyaarSay umaima malik's overacting is killing me

— Amna Talal (@atalal26) August 15, 2015
#DekhMagarPyaarSay is terribly unfunny. Is it because we can't do non-cynical humour or is it just playing to the lowest denominator stuff? — Asfandyar Khan (@asfand) August 15, 2015
So much potential, everything on fleek, just couldn't bring it in one place and make a bang #DMPS

— Aleezeh Nauman (@aleezehnauman) August 15, 2015
#DekhMagarPyaarSay was an utter disappointment. There was no flow or story whatsoever! @HumaimaMalick put in her best effort though. #DMPS — Shehryar Ali (@shehryar_aly) August 15, 2015
very weird how story of #DekhMagarPyaarsay is still as mysterious even after the release. Nothing given out #DMPS

— EB (@rf_fangirl) August 15, 2015
@dmpsthemovie@SabaImtiaz U Can't rescue a bad story, ZERO narrative & no character development with candy color Sets! #DekhMagarPyaarSay

— Faryal (@FundoFunda) August 15, 2015
Do you think Dekh Magar Pyaar Sey is worth a watch? Share your reviews in the comment box.