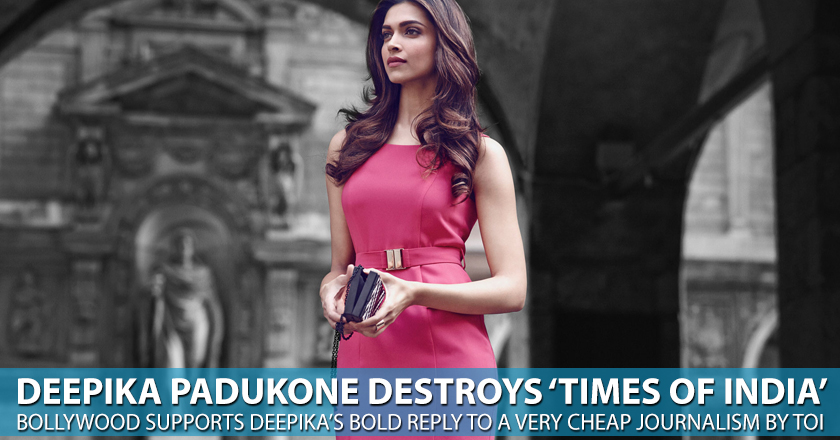 Bollywood has stood up in support of Deepika Padukone against Times of India. Ranveer Singh, Arjun Kapoor, Priyanka Chopra, Karan Johar, Jacqueline Fernandez, Huma Qureshi & many others openly supported Deepika Pudkone and her bold comeback.
Previously, Times of India had shared a rather inappropriate picture of Deepika with an even more inappropriate caption, that urged 'everyone who reads to stare at her cleavage'.
Check out the official Tweet which gave birth to the ugly controversy. The cheap selection of words and even so cheaper camera angles!! (This tweet, after Deepika's response has been taken down)
deepika controversy1
Yes! to be precise, the caption read, 'OMG: Deepika Padukone's cleavage show!' followed by a link. An article link shared with a picture of a woman's body, even that taken intentionally taken from an angle that provocates her sexuality – there is everything wrong with this post. Let alone, the fact that it came from the most trusted, credible and by far the biggest Indian online publishing house – Times of India!!
In response to which, to everyone's surprise, Deepika herself stood up: These are the tweets she send out to Times of India!!
YES!I am a Woman.I have breasts AND a cleavage! You got a problem!!??
— Finding Fanny (@deepikapadukone) September 14, 2014
Woah!! well, that was unexpected but in her defense TOI deserved every single word of it. To follow the anger up, Deepika used logic and boy did she used it good:
Dont talk about Woman's Empowerment when YOU don't know how to RESPECT Women! — Finding Fanny (@deepikapadukone) September 14, 2014
Almost instantaneously the news went viral on the internet – everyeon on twitter and everywhere else seemed to have picked up on the topic and started discussing it.
deepika controversy2
The Bollywood fraternity on the other hand seems to have a singular opinion to this matter… TOI exceeded its limits! check out which BOllywood celeb commented what:
Well done @deepikapadukone ! Taken a stand for all of us. Xoxo
— PRIYANKA (@priyankachopra) September 14, 2014
@deepikapadukone way to let 'em know! #LikeABoss @TOIEntertain TUM se yeh ummeed nahi thi #SMH #owned — Ranveer Singh (@RanveerOfficial) September 14, 2014
Thank you for this! About time! ??#RESPECT "@deepikapadukone: YES!I am a Woman.I have breasts AND a cleavage! You got a problem!!??"
— Aditi Rao Hydari (@aditiraohydari) September 14, 2014
We have hit a new low today…forget complimenting a woman have the ability to respect a woman first… — Arjun Kapoor (@arjunk26) September 14, 2014
@deepikapadukone #istandbydeepikapadukone
— Jacqueline Fernandez (@Asli_Jacqueline) September 14, 2014
More power to @deepikapadukone 🙂 dats how u shut them upppp — Huma Qureshi (@humasqureshi) September 14, 2014
Just reading TOI Ent's coverage of @deepikapadukone Stunned. A new low. Well done, Deepika, for not letting it go. Neither shall we.
— Rahul Bose (@RahulBose1) September 14, 2014
Have anything to add to the story? Comment Below!!