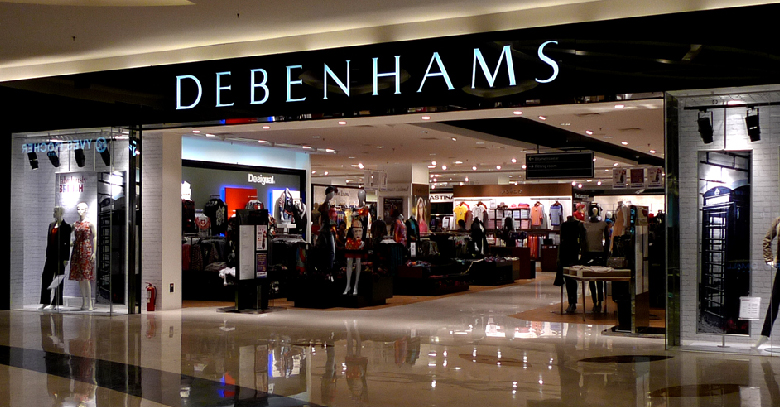 Adnan Hamid, Managing Director – Debenhams Pakistan, tells us how Debenhams has been able to capitalize on the tremendous buying potential that Pakistan's urban market holds
Synergyzer: Tell us briefly about Debenhams. 
Adnan Hamid: Debenhams is a UK based departmental store that sells feminine, masculine and children's apparel, cosmetics and home ware under its own banner.
It also has an exclusive portfolio of diffusion brands – less expensive sub-brand versions of luxury brands – available from internationally renowned fashion designers like Jeff Banks, Julian Macdonald etc., called "Designers at Debenhams".
In Pakistan, the Debenhams franchise is owned by Team Aventures, which also has the experience of setting up and managing Mothercare, Next, Early Learning Center (ELC), Timberland, Accessorize and Crocs in the country.
We planned in 2009 for Debenhams to start operations in Pakistan, with the current space booked at Dolmen City Mall, Karachi, when it was under construction.
The multi-brand departmental store was finally launched on July 9, 2012 by the British Deputy High Commissioner, Mr. Francis Campbell, and was opened on August 23, 2012, including Pakistan in the 25 countries where the store has its franchises.
Synergyzer: What value is Debenhams adding to the Pakistani market?
Adnan: Debenhams introduced the concept of a complete departmental store in Pakistan, providing quality shopping experience to customers interested in buying British high street fashion brands.
We have changed the dynamics of retailing in Pakistan through our customer satisfaction policies, pricing strategy, marketing mediums and human resource strategy. The way we present our staff and use music, store ambiance and fixtures differentiates us from other retail brands.
We have stringent processes in place to ensure customer satisfaction: If there are any problems with the product, we either exchange it or provide refund.
To make sure that the problem is not a recurrent one, we send the photograph of the damaged good to our quality control department in UK, and if the product is not up to mark, it's removed from the market.
Also, if required, we adjust our customer policies based on local customer habits. For instance, Debenhams global policy is to keep our trail rooms closed during discount seasons, but Pakistani psychographics suggested that we should allow customer trials then too, hence we reviewed and changed our policy for customers here.
Besides these, we have systems that manage and control customers all around the store, including the trial rooms, which helps provide better customer service and minimize store theft in the process.
Internationally, Debenhams is a promotion driven store. Hence, ever since we have opened, we have held different discount activities, the most recent being the 70% off Blue Cross sale, through which customers got great value for quite reasonable prices.
Our policy is to freeze prices once the product is displayed and we levy discounts on those prices, only.
Our store space is strategically organized with planned placements for all products and brands, designed to induce sales. We display our designers and brands in a unique and appealing way, with each mannequin and window display telling a different story.
For inside-mall advertising, we used wooden cut-outs of the Double Decker bus, the Big Ben etc. at our opening, introducing and setting the norm for a new form of store advertising.
We are also trying to change the perception of the retail business in Pakistan, currently stereotyped as "shop-keeping", by hiring people from top business universities and training them in retail management and planning.
Synergyzer: What convinced the Debenhams management that Pakistan is a viable market for a retail brand like Debenhams?
Adnan: Pakistan has approximately 20 million potential customers, which is almost half the population of UK; where retail is the backbone of their economy.
We conducted detailed researches and customer analyses on the dynamics of the Pakistani market that pointed towards immense potential.
Primarily, we identified the location of our store and evaluated its feasibility by calculating the catchment area – the area from which the mall was to get its most customers i.e. Clifton and DHA; the type of population, age bracket, income bracket and spending power of the people living in these areas.
Also, a significant number of graduates are earning between Rs.35,000 to Rs.70,000, which will increase as they grow in their respective careers.
Additionally, we took sales data from other international franchises operating under the Team Aventures umbrella like Next, Accessorize, Timberland, Mothercare etc., and we got an estimate as to how much market potential was there within men's, women's and kids' customer categories.
All these results highlight tremendous buying potential, which is further demonstrated from our sales numbers that are 30% better than projected at the moment.
Synergyzer: How many labels do you have under your brand, in-house and otherwise?
Adnan: We have a unique combination of original in-house, international and concession brands.
In-house brands include Red Herring, Mantary, Pineapple, Thomas Nash and Maine amongst others.
The international range of designers offer customers with exclusive product lines at mainstream prices and include designers like Jasper Conran, Julian Macdonald, John Rocha, St. George by Duffer and Matthew Williamson.
Besides these, we have outsourced cosmetics and perfumes from L'Oreal, Clarins, Dermalogica and numerous perfume brands, and we will continue increasing these ranges.
Synergyzer: Can you give some examples to demonstrate the diversity of consumer profiles that brands being retailed at Debenhams target?
Adnan: We cater to numerous age groups from children, teens, young adults to the absolutely mature in taste. Some examples can be Red Herring and Jasper Conran's collections.
Debenhams Red Herring brand has collections for  men between the age of 16 to 30, women aged between 18 to 30, and children. Its high fashion casual wear and caters to energetic and trendy individuals.
Psychographically, women are interested in fashion magazines, movies and socializing, while activities for men range between gaming, sports and outings with friends, but they are not into smart and formal wear yet, unless occasion calls for it.
Jasper Conran has been designing exclusively for Debenhams since 1996, providing premium fashion in quality fabrics with attention to detail.
J by Jasper Conran is for women between the 25 to 45 age group who are health and style conscious with a preference for chic, understated and uncomplicated styles. They love to go out with friends for dinners and night outs.
The extension to this range J Jeans by Jasper Conran caters to women who are fitness conscious, interested in outdoor sports and gymming. The Jasper Conran man on the other hand, is a between 30 to 50 years of age with finer interests like fine dining and politics. He seeks clean, sharp yet simplistic designs in clothing.
Synergyzer: What is your pricing strategy at Debenhams and why?
Adnan: We are a premium store that caters to the high-end niche market, the upper-middle and middle income strata.
Based on price, product quality and design we have three different categories for apparel and accessories that include 
Core, which is a price friendly range;
Fashion, which is seasonal and relatively expensive; and
Designer, which has expensive boutique style dresses and is exclusively limited to a few pieces.
We have established entry and exit price points for each product category to accommodate as many income groups as possible. For instance, the entry price for t-shirts is Rs.700 that goes up to Rs.5000, which is the exit price.
Synergyzer: Please explain further about how you plan to include more income groups in the future.
Adnan: I believe that currently, we are catering to 10% of Karachi's population.
Our target is to increase that proportion to 30% in the next two years, which will include a major proportion of the upper-middle and middle income segments.
Keep in mind that these segments will keep growing further with the growing population and consumer incomes.
The strategy here is to cater to two kinds of customers; those who are coming in with the intention to buy and those who may not have enough resources available at the moment, but have high chances of becoming prospective buyers in the long run.
A person earning Rs.30,000 will be able to afford a Rs.700 t-shirt now, and as his income grows, he is highly likely to be able to be able to afford the Rs.40,000 designer shirt later on.
Also, our discount and promotional activities go a long way in extending our reach to other income groups.
This is how you build loyalty and long-term business relationship in the retail business.
Synergyzer:  Its speculated that mid-tier brands and international high street fashion brands are being retailed at a much higher price in Pakistan, going beyond their actual exchange rate. What are your comments on that? 
Adnan: The prices of products at Debenhams Pakistan are levied at the prevalent exchange rate of British Pound Sterling in Pakistani Rupees.
We have the option of adding 10% price uplift, which we do for limited ranges. This way, if we are retailing a £10 product and convert the price at an exchange rate of Rs.150, it would be priced at Rs.1500 in Pakistan.
If we add the 10% uplift, the price will increase to Rs.1650. Depending on how high the actual price in pounds is, the retail price in Pakistan will be reflective of that.
Our margins allow the price uplift to be kept at a lower rate due to comparatively lower labor and other operational costs involved.
In regions like Dubai and Saudi Arab, the same products are 20% to 30% more expensive than Pakistan. If we increase prices, we will not get customer volume, which is important for us in the long run.
Also, most of our customers are frequent travelers, who can compare prices between regions and products being retailed at unregulated prices spoils trust in the brand.
Synergyzer: How are you promoting the Debenhams brand?
Adnan: We have a marketing calendar and we work with a targeted approach using newspapers, fashion magazines, billboards, SMS marketing to our customer databank and social media, including Facebook, Twitter and blogs.
I act as the brand's spokesperson on the electronic and print media.
Social media has been the most effective by far, with its viral approach and interactive nature, and has even helped us identify any problems that customers may be having.
We have plans to advertise in corporate magazines and place our billboards in different areas of Karachi.
We will be engaging fashion bloggers to experience our products and blog about them, and incorporating QR codes and other such interactive tools to increase our reach and enhance our brand perception.
Synergyzer: Do you have any plans of engaging Pakistani fashion designers for the local or international market in the future?
Adnan: Debenhams has a strict policy of inducting their own designers for at least 2-3 seasons in each market. If any of the designers is not performing well, then we look for local talent.
We may consider Pakistani designers next year; however, it is a long process as portfolios have to be reviewed by Debenhams UK whereby the 'mat size' which is the display space of the product, brand detail, brand image, signage and fixtures need to meet their guidelines.
Once approved, our regional head office in Dubai does the business structuring so that the brand is made compatible with the existing Debenhams Pakistan portfolio.
Local designers can only be inducted in the international market if they are designing clothes for Western or other mass markets, otherwise it will not be a viable business proposition.
Synergyzer: Are you planning to open more stores in Pakistan in the future?
Adnan: In the next 3 to 4 years, we plan to open around 5 stores across Pakistan; two in Lahore and one each in Islamabad, Rawalpindi and Faisalabad.
Lahore is an extremely lucrative market, with brand conscious individuals who consider shopping a luxury and a privilege and love to flaunt their branded apparel and designer shopping bags. Due to this mindset, standalone shops are much more popular in Lahore than shopping malls.
The store in Faisalabad will be a smaller one, but since the city has a number of the country's industrial magnates residing there, its retail potential is tremendous.