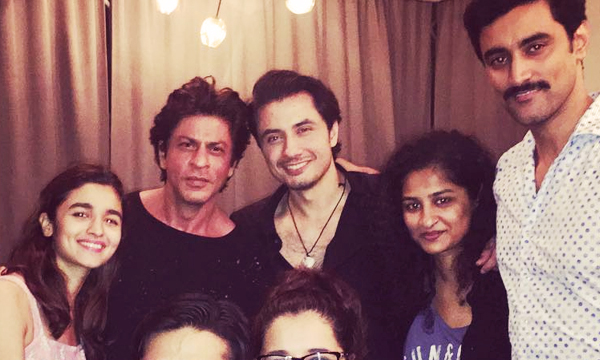 With a lot of tension spurring in the Indian entertainment industry with a sudden ban on Pakistani actors by MNS and Indian directors being bashed for roping in Pakistani artists, news is already buzzing about Ae Dil Hai Mushkil & Raees not releasing in India, do you think SRK's Dear Zindagi featuring the multi-talented Ali Zafar in a lead role can also be in trouble? It seems so!
While everyone is fretting over Mahira and Fawad Khan movie releases, no one is talking about SRK's upcoming movie Dear Zindagi.  Starring as one of Ali Bhatt's' love interest, Pakistani singer and actor Ali Zafar is also the lead in the flick alongside SRK, Aditya Roy Kapoor, Angad Bedi, Kunal Kapoor and Ali Bhatt.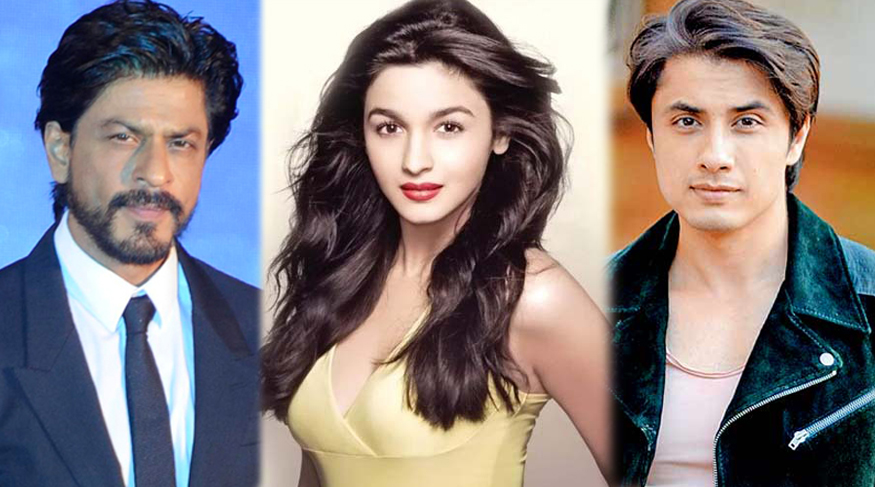 Ali Zafar is equally famous and familiar as the likes of Mahira and Fawad and if MNS is being this rigorous than Dear Zindagi is likely to come under fire as well. The Mumbai police have claimed that it will provide security to Pakistani nationals residing in Mumbai with valid documents.
"We are taking this matter seriously. Proper security will be given to all the artists in Mumbai. They need not worry," said Deputy Commissioner of Police (DCP) Ashwini Sanap.
Ali Zafar's Bollywood Movie Dear Zindagi Ft. SRK & Alia Bhatt Trailer & Posters Revealed!
In his recent interview, Karan Johar pleaded to 'leave him alone'. "Today I am not somebody who can find the answer. I am nobody in that scheme of things. I am just a filmmaker, telling a love story. Today I feel, I am a vulnerable soft target. I have faced it, felt the repercussions of it in the past and I have constantly combated that."
v"Sometimes, you just want to fold your hands and say, 'We are a creative industry. Please leave us alone. We make movies, we spread love. There are millions in the world, in our country who are happy with the work we do, allow us that…' I think we should not be those soft targets anymore. We don't matter in the scheme of things but we can make things happier and better."
The recent buzz is that leading superstars, Fawad and Mahira are not in India anymore. Ali Zafar and Imran Abbas too have returned from across the border, due to the tension brewing between the two countries.
"Most of the Pakistani celebrities have returned home from India. They have been advised by their directors and producers to remain silent on the issue as they might face negative public reaction", reports, The Nation.  It seems like Mahira will also not be a part of the upcoming Raees' promotions, considering how India is now a threat zone for Pakistani celebrities.
MNS has also threatened leading Indian T.V channels such as Sony, Zee, Star, and Colors not to hire any Pakistani actor.
Ali Zafar was one of the first few actors to make it to Bollywood! He has previously starred in Indian movies Tere Bin Laden, Total Siyapa, London, Paris, New York, Mere Brother ki Dulhan, and Kill Dil. He was also roped in for the 2017 flick Golmaal 4, seems like that might not be the case anymore.
Dear Zindagi is all set to release on November 25th. Will the film make it to the big screen? Let us know in the comments below & stay tuned to Brandsynario for more updates.
Fawad Khan, Mahira Khan & Other Pakistani Celebrities Leave India Due to Rising Security Threats!
Let us know in the comments below & stay tuned to Brandsynario for more updates.