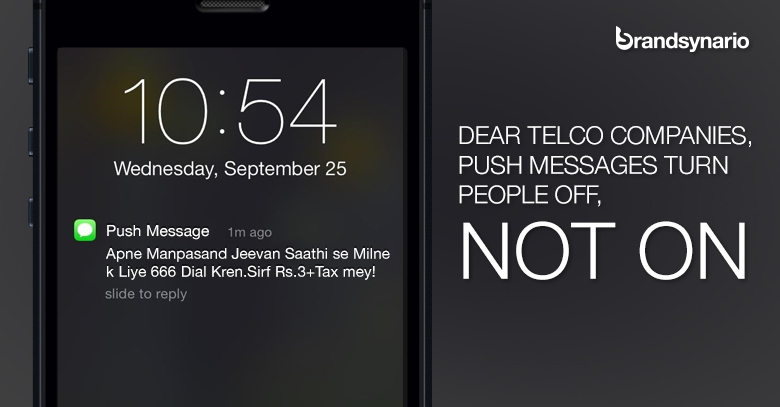 By Momina Khan
Dear Telco Giants, 
We know you are aware of the fact (and are probably making the most out of it) that those days are long gone when a phone used to be a buzz-free paradise- a place where one could play games, set an alarm and make a few calls, all without being bothered by those pesky push messages that are now are inescapable.
It disheartens me every time I get an infuriating text telling me "Apney Sitaron ka Haal Janne K liye 666 milaen"or even worse, "Call karne ko andaz ko badle, background music k saath call milaen" – texts like these leave me infuriated enough to change my network.
Instead of wasting your time on coming up with useless features and these annoying messages, try thinking like a customer!
For your loyal clients, Push messaging is the most wretched way of communucation. If your strategy is to PUSH, PUSH and PUSH then you must realize that it simply equates to your customer telling you to GO TO HELL!
Every person starts off hoping it's the beginning of a wonderful relationship, but telecommunication companies love to break hearts.  Our orange, blue and red branded telcos companies consider push notifications as a one-way 24/7 broadcast medium to hurl offers one after another.
This kind of approach is not only harmful to the brand's image but to your customers' loyalty too.
What exactly is push messaging and how does it work?
It is a consent-based communication that sometimes goes from your subscribed telecommunication company into your text inbox and other times by an app directly to the phone screen.
Often, there is some sort of a nudge like a buzz, ping or vibration to announce a push message, which increases the impact. So basically, your phone becomes a hub for them to keep in touch with you (or rather get on your nerves) by dumping all sorts of unnecessary messages.
Since it's consent based, the upper-hand in the relationship rests with the user.
They will happily block all the alerts (I have 42 texts waiting in my block list, all by my telco) and turn you off because you're not adding enough worth or respecting their boundaries.
Your less than planetary approach to push messaging could even harm the connection that users have with push messaging as a whole.
Here are a few suggestions for all the telcos out there to make Push messaging a bearable act:
TIMINGS MATTER
Send your announcement out at the right time. You might want to think twice before sending one early morning or late night. What push message would you like to wake up to?
666 milaye aur janiye apne love partner ka naam?
SEND IT TO ME WHEN I ASK FOR IT
The finest push messaging allows customers to personalize when they would like to hear from you and what topics are acceptable. Nobody likes to be bombarded with a gazillion text messages regarding the most meaningless matters ever.
Dial 2100 for live updates of Pak vs SA series– just when cricket is around the corner would probably be a welcome message for most cricket fans when used as a tool to provide live updates around the time when it is needed the most.
But sending someone your rishta service messages when the person is already married is downright absurd!
THINK TWICE WHETHER I NEED IT OR NOT
Before you send out one of such messages, please think twice if it really worth your customers' time? If not, maybe an email or once a month message would be more appropriate way to communicate.
Some of the key factors of relevancy are whether your communication makes your customer's life better, enjoyable, easier or safer.
Finally, always ask yourselves, "Is this announcement something the customer must really know or is it actually a send-me-not?" That should do the job.