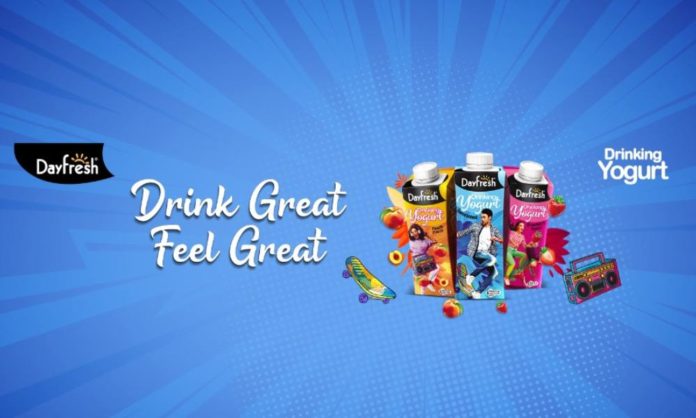 Dayfresh is a progressive and fast-growing company, well known for its high quality, nourishing and innovative products. Having a well-established portfolio, Dayfresh is now proud to announce the launch of its new product, Drinking Yogurt, being introduced for the first time in Pakistan in shelf-stable packaging.
Dayfresh Drinking Yogurt is now available nationwide. It comes in three delicious flavors – sweetened, peach and strawberry. This is a great addition for people seeking delicious and healthy beverages for their "on-the-go" snack time, pre and post-workout refreshment, quick breakfast solution or simply to indulge their cravings. It has a rich flavor and it is fulfilling enough to be used as meal replacement. It is also extremely refreshing making it the perfect drink for the summers.

As per the research conducted, there was a gap in the Pakistani market that needed to be filled. Dayfresh Drinking Yogurt is the solution to consumers' desire for a healthy on-the-go beverage that has variety in flavors. The primary aim of Dayfresh Drinking Yogurt is to provide a refreshing, healthy, and delicious yogurt-based beverage that refreshes you in the hot summer weather.
This unique and innovative product launched by Dayfresh is bound to set the bar high in the beverage industry. Apart from its distinctive and revitalizing taste and clutter-breaking packaging, the yogurt-based drink also has various health benefits. It is a source of Calcium, Protein, Vitamin D, and other nutrients which help build one's immune system and improve bone health.
Check out this DVC!
This product segment stands apart from any other beverage due to its rich mouthfeel, flavorful taste, good nutritional content, and convenience it provides for its consumers. Offering tasty and refreshing nutrition on the go, Dayfresh's Drinking Yogurt is a brand-new innovation that was much needed in the beverage industry of Pakistan.