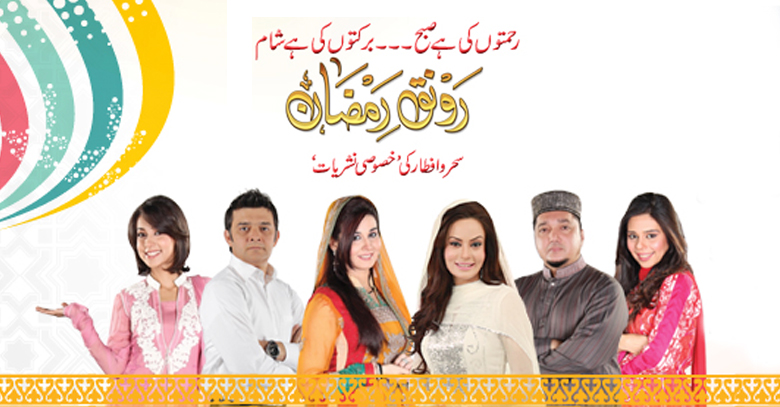 By Ufaq Ashfaque
JULY 11th, 2013 –Dawn News initiated its Ramadan transmission, Ronaq-e-Ramadan, which provides companies with advertising space and simultaneously caters to the needs of the audience in the religious month.
Saadia Imam is anchoring it and popular faces such as Musarrat Misbah, Jiya Ali, Sharmila Farooqi, Farhan Ally Agha and many others have made their appearance on the show.
Ronaq-e-Ramadan has been divided into two time brackets. The Iftaar transmission starts at 01:00 pm and lasts till 08:00pm while duration of Sehri transmission is from 02:00am to 06:00am.
The Sehri transmission is focused on imparting knowledge about the code of conduct during Ramadan and how could people benefit during this blessed Islamic month.
Religious scholars and anchors can be seen on the show, giving away knowledge about the importance of Ramadan, its benefits and what could we as Muslims do to improve ourselves.
The Iftar transmission entails a cooking segment where experts like Sharmane give valuable insights regarding Ramadan-oriented cuisines and share quick-fix and appetizing recipes.
The audience gets to see some of the popular faces of Lollywood who manage to capture the attention of the viewers of the show.