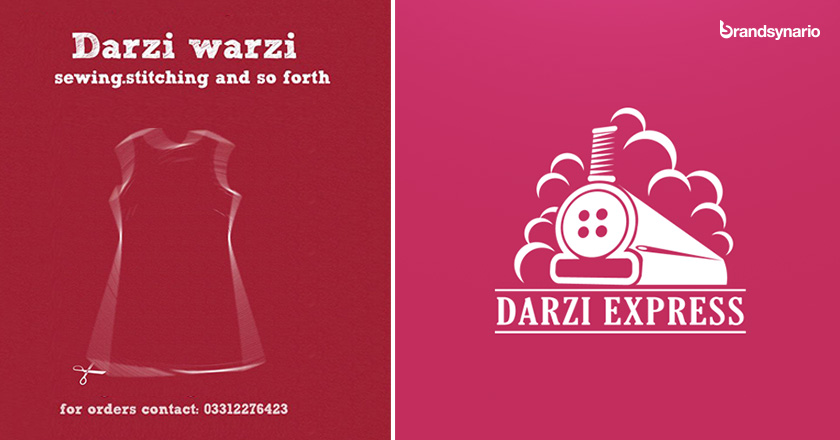 If there is one person that all Pakistani women collectively love-hate, it is definitely their annoying Darzi Walas.
From the never-ending nightmares of ill-fitted Kameez, oversized Shalwar, too short sleeves, plunging necklines, lingering delays and not to forget their inevitable excuses of "not enough fabric Baji." These Darzi Dilemmas will continue to haunt us ladies for the rest of our lives.
Unless, there is a savior who rescues us from the curse of these mean Marzi Kay Darzi, relieving us from the torture, tears and tantrums of butchered clothes eventually making our whole stitching experience no less than a fantastic fairytale.
Seemingly, the good days are finally here with startups offering online tailoring service at the customer's doorstep on the rise in Pakistan.
One such initiative is Darzi Express, an online tailor startup claiming to offer you a hassle free custom stitching service within the comfort and convenience of your home.
Ataullah Abdullah, a marketing graduate of Royal Holloway, University of London and Muhammad Ahad, an MBA student of Iqra University are the founder duo behind this contemporary mobile tailoring venture, based in Karachi.
"Darzi Express is a personalized and contemporary pickup and home delivery tailoring service that begins and ends in the comfort of your own home. Our rider will come to you wherever you are, take all the necessary clothes and accessories required in the stitching process, drive it back to our tailoring hub and have it dropped back to your doorstep within 48 hours," says the co-founder Ataullah in an exclusive interview to Brandsynario.
Ataullah revealed that his inspiration for this ground breaking idea came directly from the ever-growing Lawn industry of Pakistan, where Lawn-loving ladies are always looking for tailors to get their fabric rightly stitched.
"One of the biggest problem for women is that their tailor are the sweetest liars who never do their job on time. So we thought why not we start a quality and timely service for them," adds Ataullah
You can check out the Facebook page of Darzi Express here.
Vowing to make the days of the Pakistani women a hell lot easier, Atauallah explains the mechanism behind Darzi Express, "We are very focused towards each customer and handle each order with great delicacy. Customers send in an exemplary suit with their first order and we feed their data and fittings in our system so they don't have to give measurements every time, unless there is a change in size. Incase of alteration we do it for free again within 48hours, our riders picks up the suits and we do the timely delivery with no extra charges"
Apparently Darzi Express, with its service currently available just for Karachiites, received an overwhelming response just within a month of its launch. "We were surprised by the increased orders within 2 weeks and an amazing response from our customers who repeatedly ordered 2-3 times within those 2 weeks," informs Ataullah to Brandsyanrio.
With its aim to redefine the conventional tailoring trends in the country, Darzi Express has unlocked the very first level in the e-tailoring industry of Pakistan, which is still at its embryonic stage.
"We guarantee the quality of our work and promise to deliver the highest level of customer service. So you don't have to go through the hassle of calling the tailor again and again, but sit back and wait for 48 hours only. What could be better than this?"
However, it's still yet to see whether initiatives like Darzi Express will take a boom in the nation and find a lasting home in the lives of Pakistani women, fulfilling their dream of a perfect tailor experience and bringing an end to their tailor woes once and for all.
Have something more to add to the story? Share with us in the comments below.