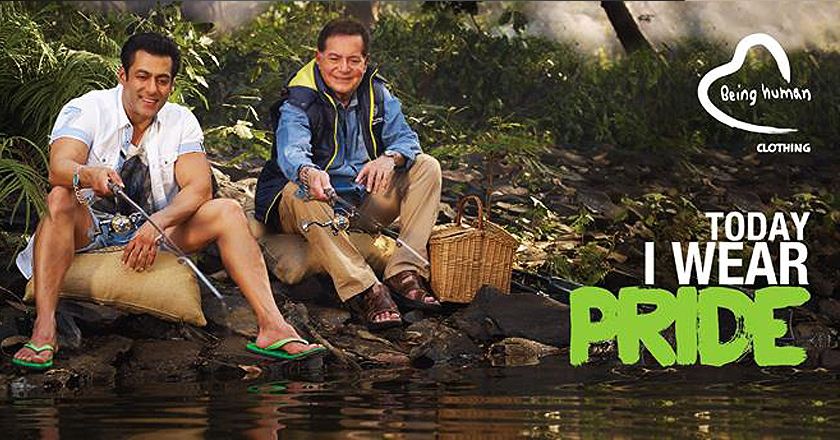 By Zoya Anwer
"Being Human" the clothing line by Salman Khan has made sky rocketing sales of Rs. 179 Crore just one year after its inception. 
The actor who has given blockbuster hits one after another dedicates his apparel brand to humanity and charity services from which the funds go to The Salman Khan Foundation which focuses primarily on education and healthcare for the underprivileged.
Manish Mandhana, the joint managing director of the Mandhana Industries that have the copyrights to design, produce and market the product reportedly said,
"Brand Salman is a major factor that defines the success story of Being Human clothing. It is his huge following that has driven the sales to such a level in just one year of its launch in India." 
The sum generated from the brand has crossed most of the earnings by his movies with the exception of Eik Tha Tiger in which the star made Rs. 198 Crore.  
The managing director also believes that it is not solely the fan following that generated the revenue but the quality of products has also played a major role; hence they come back for more merchandise. He added that the company also has four international designers who look after the design of products.
He said, "Similar to Zara, which has merchandise on their shelves for less than two weeks, we too have been focusing on fresh fashion to stay relevant for youngsters." 
However Being Human's main T-Shirt costs for Rs.699 and the premium brands like Marks & Spencer charge lesser than that and the brand also faces competition from international brands like H&M, Gap Inc, Uniqlo that would soon be available to the Indian market.
This culture of celebrity brands is still relatively newer in India unlike USA where such brands are very common.