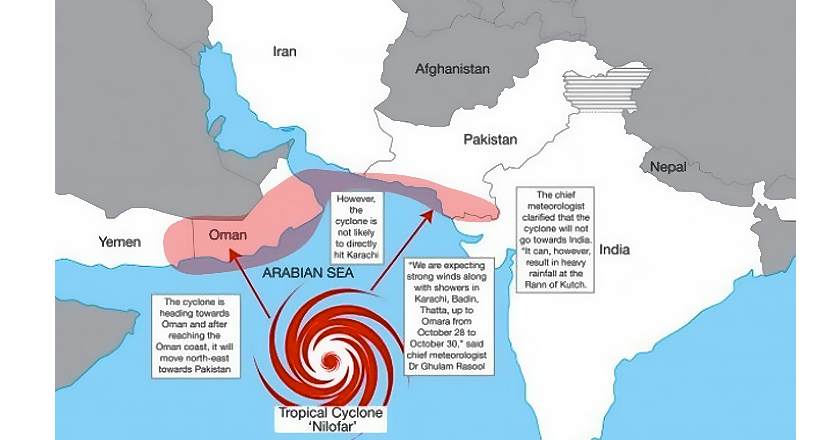 Pakistan's Balochistan coastal belt is likely to come under the effects of cyclone 'Nilofar', which according to the Meteorologists will develop within the next 12 hours. Express Tribune Reports. Cyclone Nilofer, is expected to hit the coastal areas of Balochistan somewhere around October 29.
Officials further clarified that the cyclone will lose most of its wrath when it will hit Sindh's coastal area which includes Karachi somewhere between October 30 and 31st. Nevertheless, heavy rain is still expected along with thunderstorm, Tribune further elaborates.
Chief Meteorologist Muhammad Tauseef briefs about the issue saying that the ongoing depression in the Arabian Sea can develop in a cyclone, which will than hit Oman first, than north to Pakistan and then India.
As a result of 'Nilofar', heavy rains with thunderstorm can be observed in Karachi on Oct 30-31. 
Nor Karachi neither Pakistan on the whole, is equipped to deal with a natural catastrophe of any sort or any magnitude. There is no structured rescue system or force ever built to deal specifically with an remotely close to the magnitude of a cyclone, which is uncanny considering that Karachi is not only the oldest functional port of Pakistan, but it also is the most significant.
We hope and pray that God save us from any catastrophe because evidently we cannot save ourselves.