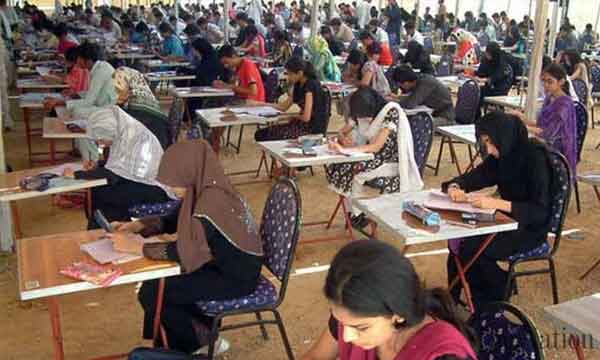 Earlier this week, the Senate had passed a resolution to allow Central Superior Services (CSS) candidates to take their exams in our national language, Urdu.
According to Urdupoint, Senator Sirajul Haq was the one who presented the resolution in the upper house.
Giving examples of countries like China and Japan, Amir Sirajul Haq demanded that applicants should be given the option to take CSS exams in Urdu as well.
 "We can also progress by holding the CSS exams in Urdu. Urdu language is recognition of Pakistan nation and its culture, therefore it is inevitable the language should be given constitutional status"
State Minister for Parliamentary Affairs, Ali Muhammad Khan said that there are six compulsory and 45 optional subjects in the CSS exam. Moreover, he mentioned that all compulsory subjects were taught at universities in English.
Using that argument, he supported his stance that CSS candidates should be allowed to take the CSS exams in their choice of language.
The debate concluded with the Senate's verdict that Urdu be added as an optional language in the exams along with English.
Some think it will make no significant difference.
Senate resolution about URDU as a medium of exam for CSS has no legal effect. Even if the law is passed students will have option to attempt in Urdu or English. pic.twitter.com/NnZ1ANV6Oa

— Tajamul Hussain (@RizviTajamul) May 13, 2019
Haan toh uss level ki Urdu bhi parhaayen na schools mein. Her koi rattay se paas hojaata hai ash'aar ki tashreeh aur sho'raa ki history yaad ker ke. https://t.co/dULT1ljGUu

— The Mewly Weds! (@themewlyweds) May 15, 2019
CSS in urdu now?

One step forward, two steps back.

— Bilal (@Sillly_Point) May 13, 2019
While others are sharing the news on social media as "good news", as it will help promote our national language.
"Good News"

Senate Passes Today A Resolution To Hold Central Superior Services(CSS) Exams In Urdu As Well pic.twitter.com/02ylKLcJbE

— Teacher Msg Service (@tmsforall) May 13, 2019
Yesterday senate has passed the resolution to held the css exam in urdu.A pristine step for native language.Specially thanks to Siraj ul haq sahib for that step.A great job to promoting our language.

— Shehzad Malik (@Shehzad45561779) May 14, 2019
What do you think? Will it prove to be a good idea?
Let us know in the comments below.