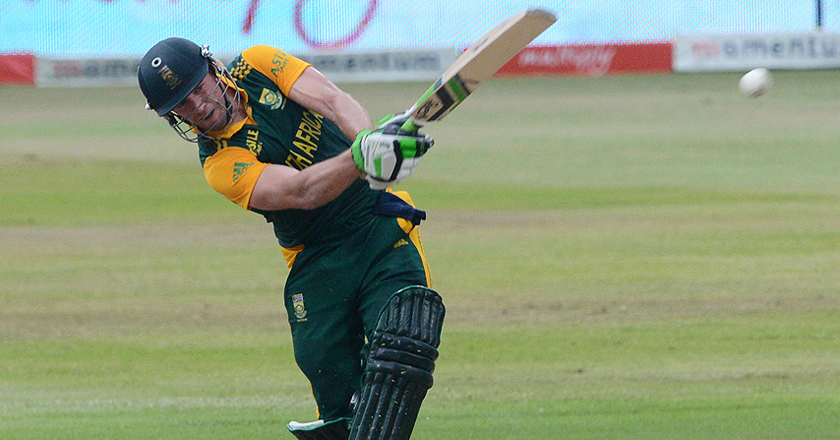 South African batsman, AB de Villiers set a breathtaking new record of the fastest ever ODI century on sunday in a match against West Indies. De Villiers hit 16 sixes and 9 fours in the record smashing century with only 31 deliveries, within 59 minutes. The record for the previous fastest century was set by New Zealand's Corey Anderson with 36 balls, who congratulated AB in the following words:
"Records are there to be broken and congratulations to AB, it was obviously a hell of an innings." With the new record set, sportsmen from around the world, congratulated and appraised de Villiers at Twitter.
Here are some tweets from renowned cricketers, coining AB de Villiers as the cricketing genius.
Have to say @ABdeVilliers17 is the definition of a Cricketing Genius … absolutely incredible… #31BallTon

— Michael Vaughan (@MichaelVaughan) January 18, 2015
Happy new year @ABdeVilliers17 well played mate??

— Shahid Afridi (@SAfridiOfficial) January 18, 2015
World record fastest ODI century – Congrats @ABdeVilliers17!

— Shaun Pollock (@7polly7) January 18, 2015
I demand a DNA test of AB DeVilliers…this game is only for humans. #superhuman #WhatAPlayer

— Aakash Chopra (@cricketaakash) January 18, 2015
Congratulations @ABdeVilliers17 for a world record fastest odi hundred. Awesome batting! Unbelievable!!!

— Anil Kumble (@anilkumble1074) January 18, 2015
You don't often pray to get the bloke with 150 not out on strike when you're bowling! Well done AB, gentlemen and a class act #carnage

— Ashley Giles (@Gilo) January 18, 2015
Not the worst entertainment from AB right now. Best in the world without a doubt. #SAvWI

— Brendan Taylor (@BrendanTaylor86) January 18, 2015
No one ever will beat @ABdeVilliers17 fastest ODI century in just 31 balls #crazyridiculous #genius #SAvWI

— Dean Jones (@ProfDeano) January 18, 2015
Are we watching highlights ?! #ABDevilliers #superb #fastestEverything!

— Azhar Mahmood (@AzharMahmood11) January 18, 2015
AB de Villiers has scored 149 runs from 44 balls. That is as preposterous as his name. Remarkable performance!

— Gary Lineker (@GaryLineker) January 18, 2015
44 balls for 149 runs!!! Unbelievable batting by the World's best batsman @ABdeVilliers17 #ProteaFire #SSCricket

— Ernie Els (@TheBig_Easy) January 18, 2015
The term genius gets bandied around loosely in sport but @ABdeVilliers17 completely deserves that status

— Robin John Peterson (@robbie13flair) January 18, 2015